Bloomberg's Billionaires Index takes a look at Mikhail Prokhorov's wealth and finds that the Nets owner is slowly but surely moving the bulk of his billions to the U.S. and specifically, to New York and Brooklyn. His interest in the Nets is likely to be more than just rooting, suggests Bloomberg. Instead, it's becoming the heart of his financial empire.
Noting that the oligarch's Russian businesses have been the target of police raids in recent months, Bloomberg writes that Prokhorov is selling off his big assets at home.  It started with his sale of a stake in Uralkali, the world's biggest potash miner, and has now extended to his longtime holding, a 17 percent stake in Rusal, the world's largest aluminum company. The first netted him $2 billion, the second is expected to yield another $900 million, according to Bloomberg.
If that sale goes through, his most valuable investments would no longer be in Russia but in and around his adopted home, Brooklyn. In addition to the Nets and the Barclays Center arena, Prokhorov holds leases on several other entertainment venues there. The Bloomberg Billionaires Index estimates their value at $2.2 billion, while Prokhorov's staff puts the figure at about $3 billion
The Bloomberg breakdown puts the value of his remaining Russian assets at $2.3 billion. Another estimated $5.7 billion is in cash, Bloomberg data show. (The last time Prokhorov had that kind of cash was in 2008-09, as the world economy collapsed. He was able to land big investments for small prices, starting with the Nets.)
The bottom line is that he's likely to be more interested in the Nets and other sports related interests, suggests Bloomberg.Here's how Bloomberg sees the shift.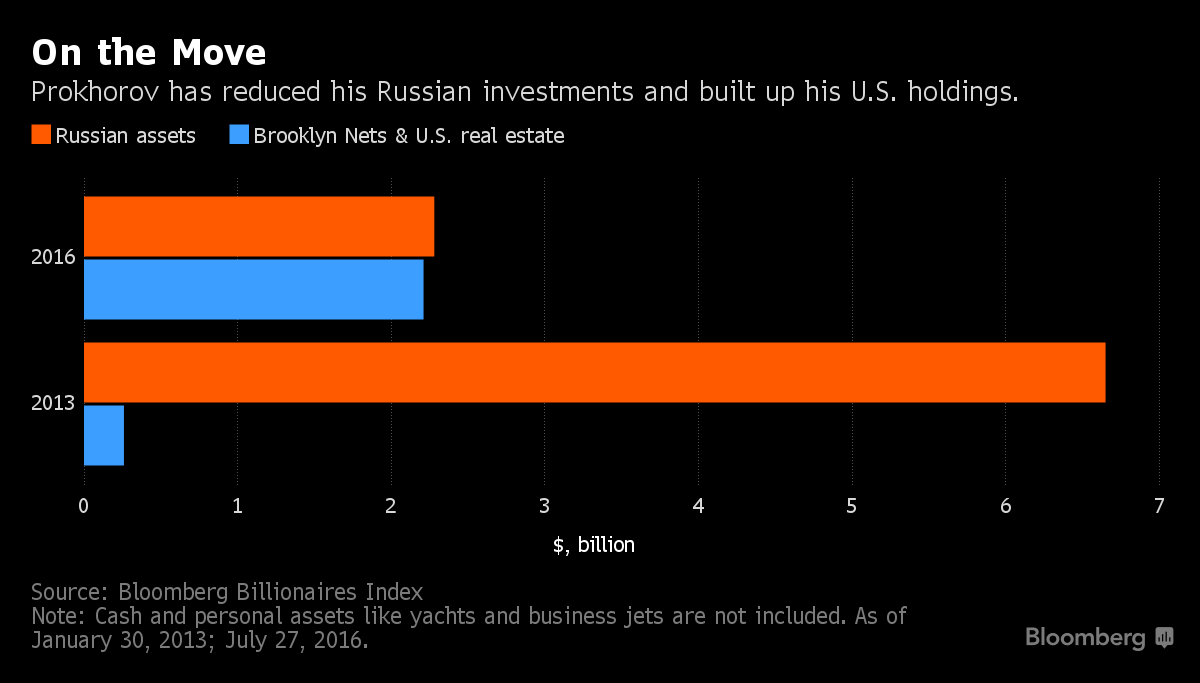 Dmitry Razumov, CEO of ONEXIM, Prokhorov's main investment vehicle, disputes Bloomberg's contention. saying it's a normal part of business. The sales have long been in the works, he says, and that some proceeds will be invested in its Russian finance and energy businesses. "We have no plans to sell off all our Russian assets," he said. "Quite the opposite is true."
Prokhorov has never bought a New York property.  So, he's not likely to be seen that much more in Brooklyn, but his interests in Brooklyn Sports and Entertainment are likely to be a bigger part of his financial focus.