So much to review, good bad but very little indifferent.  The Nets free agency is now three days old. As of 5 p.m. ET Sunday, they have 11 players either under contract or committed (Caris LeVert and Tyler Johnson can't be signed until next week) and $21 million in cap space. And although a report about the Nets getting Allen Crabbe was refuted, it does appear they are in hot pursuit of the 6'6" Blazers shooting guard. Brian Lewis of the Post reports the Nets will meet with him Tuesday.
First thoughts on Jeremy Lin
Whatever it's called, we will take it. It's the return of LinSanity to New York. Call it Brook-LinSanity or Brooklyn-Sanity or BrookLinSanity.  We'll wait for the trademark ... and you know it will be trademarked.
Putting aside all the other Nets issues this free agency (see below), the signing of Lin changes the team. They have a starting point guard, one who played well last year in Charlotte coming off the bench. But they also have an international phenomenon, the only Chinese-American (Taiwanese-American, if you prefer) in the NBA, the only Ivy Leaguer in the NBA.  He is also fun.  He does not sulk.  He does not complain.  He's real, someone who a variety of fans can relate to. (including that small subset with a degree in economics from Harvard and an 800 on their Math SATs. That's not us.) And he's charismatic.
His popularity is staggering.  NetsDaily's Twitter followers have jumped by nearly 1,000 in the last three days!  We've had 100,000+ page views every day since he was signed.  We know we do a comprehensive job on covering the team and we know the team is in the midst of a critical free agency, but most of the surge IS the result of the Lin signing.  We can't imagine what it's been like for the Nets!
We wonder what the Nets will do to introduce him.  A big press conference at Barclays Center?  Or a smaller one at the HSS Training Center, conveniently located in Sunset Park, Brooklyn's China Town?  Whichever it is, expect a media madhouse.
And what about basketball? You know hoops, the reason they signed him. Lin made it clear this weekend that the big reason for his move other than perhaps his relationship with Kenny Atkiinson, was his desire to start. As he wrote Hornets fans... "I couldn't pass up this opportunity to continue seeing what I can do as a basketball player."  He wanted to start.  Last week, speaking at the World Economic Forum in Tianjin, China (think about that), he talked about the importance of his upcoming free agency, noting that the years between age 27 and 31 are the peak for basketball players.
So what can we expect from Jeremy Lin as starter?  There are reference points, provided by his passionate fans (more on that in the final note).
Over the course of his career, he's started about half the games he's played in. In Charlotte last year, he started only 13, but did very well.  He averaged 17.5 points, shot 46 percent both overall and from deep and averaged 4.8 assists. A Lin fan compared his stats to other free agents this summer.

Similarly, Lin fans have been circulating data on how he performs when starting without superstar teammates. Lin has started 33 games in his career when Carmelo Anthony, James Harden, Kemba Walker or Nicolas Batum were hurt.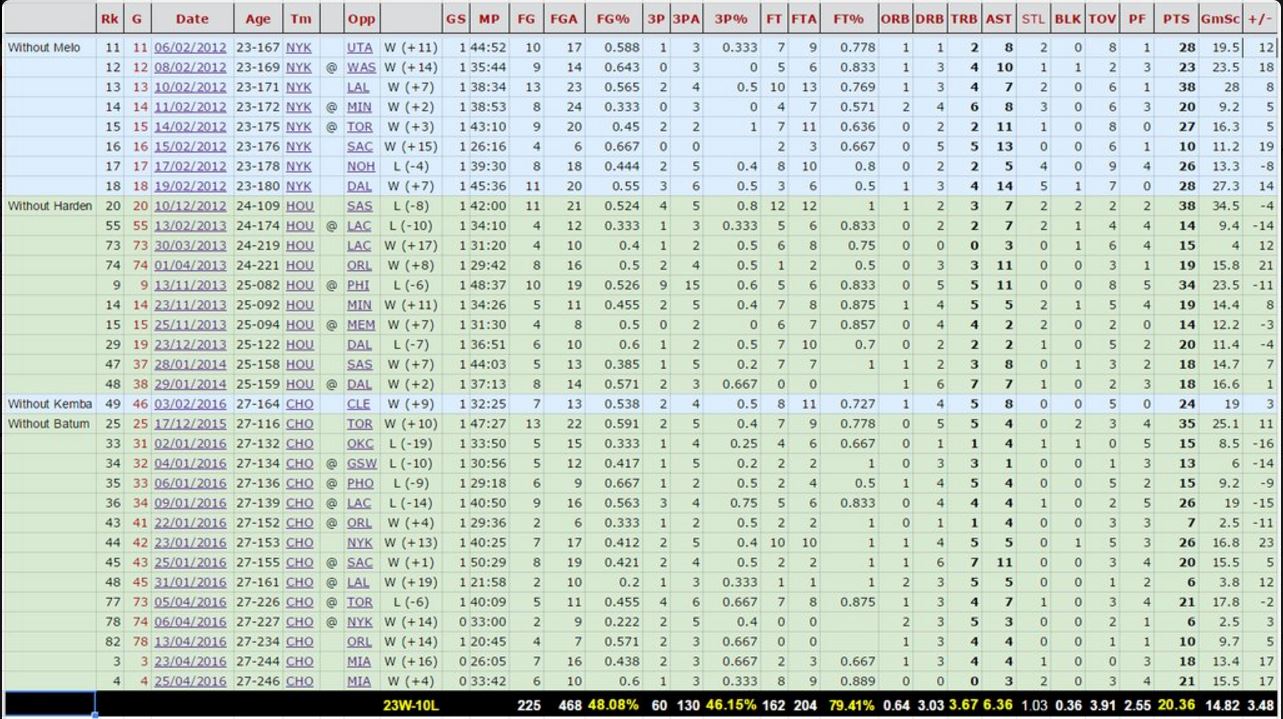 Most importantly, Lin's teams went 23-10 in those 33 games, without their stars, a better record than when the stars were in the lineup -- and that was true for each team. Second, only eight of those 33 games were during Linsanity with the Knicks. The Linsanity games don't look much different from the other 25 games, statistically. Lin averaged: 20.4 ppg, 6.4 apg, 3.7 rpg, 48% shooting, 44% 3-point shooting.
Obviously, it's a small sample and critics can argue that when he started 82 games for the Rockets in 2012-13, he was somewhat mediocre, 13.4 points and 6.1 assists while shooting under 45 percent overall and barely over 33 percent from deep. The next season, he started only 33 out of 71 games. The Rockets moved on.
Lin has his problems. He makes fewer pick-and-roll passes than Jarrett Jack. His defense is ordinary and some think he's more a 1.5 than a 1, meaning he's a shoot-first point guard or a shooting guard who can pass.
Atkinson, to a large degree, created LinSanity, working with him as a Knicks player development coach and pushing Mike Dantoni to play him.  He believes in Lin.  They have a strong coach-player relationship, one of the strongest in the league between a point guard and a coach, you could argue.
Of course, there is another side to the Lin phenomenon and it's the ugly one, the racial one.  Going back to 2012, when Jason Whitlock and ESPN had to apologize for racially tinged comments, Lin has been the focus of a lot of discussion on race in sports.  Remember this Saturday Night Live open at the height of LinSanity...
On less light note, this spring, the NBA had to respond to other passionate Lin fans who put together and circulated a video that suggested refs were letting Lin get hammered without calling a flagrant, without even a review.
The video has had nearly two million page views on YouTube alone and a lot more on places like Hong Kong and Taipei and Shanghai.
The subtext was as the New York Times wrote, "With its bruising simplicity, it revived questions about the fairness and consistency of officiating in the N.B.A. and led to conversations about latent racial biases. With its far-flung reach, it reiterated the power of social media in the contemporary sports landscape."
The fans addressed a letter to Adam Silver, calling for a review. But the NBA rejected the claim (although former refereeing director Ronnie Nunn agreed with the fans.)  Don't expect this controversy to die. As the fans wrote in a follow-up to the NBA's response, "We have arrived at different conclusions from yours." They will continue to monitor what they see as unfairness. (A side note, next time anyone suggests Lin is "soft," one of the more hateful phrases in sports, send them this video.)
Expect controversy to continue as well. Lin will be back in New York, not Charlotte.  The comments from two (jealous?) point guards, Stephon Marbury and Jarrett Jack, this weekend were likely just the beginning.
But let's forget that for now. Jeremy Lin will bring excitement to Brooklyn, will bring an international audience to Brooklyn, will bring a presence to Brooklyn.  It will bring LINSANITY!
Where we stand ... a slow rebuild.

To be clear, most pundits think the Nets have done well. Here's a sampling from Twitter...
Nets having a nice couple days so far. More work to be done but finding nice values.

— Tim Bontemps (@TimBontemps) July 2, 2016
The Nets and Kings are the teams making the most fiscally responsible signings. #wattba

— Tom Ziller (@teamziller) July 3, 2016
Just filed Day 2 winners and losers column. Across two days:
Winners:
Celtics
Kings
Nets
Magic

— Hardwood Paroxysm (@HPbasketball) July 3, 2016
So the Brooklyn Nets might be having — relative to expectations and assets — the best offseason in the NBA (including their two hirings).

— Adi Joseph (@AdiJoseph) July 2, 2016
@AdiJoseph To be clear, the Nets still are going to be bad. But they're going to be bad in the right ways. They're planning for the future.

— Adi Joseph (@AdiJoseph) July 2, 2016
All that was before the Tyler Johnson signing. Here's sampling of tweets since then...
Really impressed w the Nets' summer. Making a lot of the moves I thought the Knicks would be smart to consider. On the right track.

— Chris Herring (@HerringWSJ) July 3, 2016
Psst, I wouldn't be shocked if the Nets ended up being sneaky good (or at least not embarrassingly bad) this year.

— CelticsBlog (@celticsblog) July 3, 2016
Every move the Nets have made under Sean Marks I've been like "Oh, that's a good decision."

— Hardwood Paroxysm (@HPbasketball) July 3, 2016
I love the way the Nets are spending and spreading the wealth around to all tiers of players. I guess you could say I'm a Marksist now.

— Zach Harper (@talkhoops) July 3, 2016
Of course, not everyone is enamored of the moves. There's (always) Stefan Bondy and Jeff Goodman...
It seems like the Nets strategy is to be really bad without their own draft pick.

— Stefan Bondy (@SBondyNYDN) July 3, 2016
Nets gonna take the place of the Sixers as NBA's laughingstock this season.

— Jeff Goodman (@GoodmanESPN) July 3, 2016
Well... what do we think?  There's positives and negatives (and before the Johnson deal, we were told by people inside and outside the organization that we were too negative). One thing is certain: BillyBall, the Billy King era, is very much over and that is a good thing.
It's obviously a work-in-progress, as the surprising $50 million offer to Tyler Johnson and the reported, if refuted, $70 million offer to Allen Crabbe, proved.  The Nets still have some work to do and still have some cap space to do it in.  They're signing players at a rate of one per day.  They are not overpaying, unless you think signing a player with 68 games NBA experience to a $50 million offer sheet is overpaying.  Apparently, in this crazy free agency, not a lot of people do.
Kevin Pelton of ESPN, who accurately predicted disaster last season, called the Lin signing "an oasis of sanity" in a "sea of bad contracts" (work on those metaphors, Kev); and referred to the Justin Hamilton as "my deep, deep sleeper for this summer's free agency" but suggested Trevor Booker as a starting PF is "marginal at best."  He called the offer sheet to Johnson "wise," stating "Johnson is the kind of free agent Brooklyn is wise to target. At 24, this contract takes him through his prime ... this is a worthy gamble."
You can certainly say they got their biggest target, who was obviously Lin.  Rajon Rondo was never on their radar, from what we could tell and signed with Chicago We're not sure they even met with him, as someone reported (we can't remember who anymore!).  Mike Conley Jr. was going back to Memphis and his $153 million deal is the biggest in the NBA ever, like in nearly 70 years.  Nets were never going to match that.
The next two signings, to us, were a bit meh. Decent enough, but not the kind that would excite, push the envelope. There are reports that Booker could start at PF, which we think would be kinda crazy.  If you're rebuilding and you have a promising 6'11" 21-year-old, he should be your default starter.  Hamilton is a stretch 5, it would appear, but in most scenarios, it's hard to see him as much more than a third-string center.
Johnson, on the other hand, is what we came here for, the out-of-the-blue risky WojBomb.  We like it for its riskiness. Johnson is a hyper-athletic, 6'4" 24-year-old. As Woj wrote, "NBA executives and coaches who scouted him and studied him closely on tape in the D-League and NBA see the potential for a versatile and complete guard." Complete guard ...as in back-up PG and sixth man filling in when the Nets need points.
Also, and this is important: Johnson wanted to play here.  We are told he turned down more money from one of four other teams pursuing him: the Kings, Bulls, Hornets and Pelicans. That's a tonic after hearing that several players turned the Nets down, including top target Kent Bazemore who Chris Vivlamore of the Atlanta Journal Constitution reports had identical offers -- four years, $72 million -- from the Nets, Lakers and Hawks ... and chose the Hawks.
The Nets couldn't even get an interview with Kevin Durant despite all the connections to the Nets ... and pleas by Jay-Z, his agent.  Jared Dudley wanted more than the $18 million over two that Nets offered. They didn't budge (good) and moved on to Booker. Dudley signed with the Suns. Sergio Rodriguez was more than interested, but when word got out that Lin had signed, he decided to stay in Spain.  Jamal Crawford had "strong interest" from the Nets but seemed to leverage offers from Brooklyn and others to get a new, three-year, $42 million deal from the Clippers.
Is the Johnson offer a risk? Sure, it is.  Is it any more risky than giving Evan Turner $70 million or Courtney Lee $48 million or Joakim Noah $72 million?!?  Good question. The answer would appear to be no.  Still, it's what we wanted the Nets to do: be aggressive, go young, take risks because we believe that in the NBA this summer not taking risks is a risk in itself.  Get one piece a season and develop your own. (And of course if the Heat match on Johnson, that would a bad thing. but we will deal with it.)
We would still like to see more of what we were promised by Sean Marks and Kenny Atkinson in terms of going after international players and D-Leaguers as a way of making up for lost picks.  Hamilton did play in Spain last year, averaging 14.5 points and six rebounds while hitting a little more than 40 percent from deep, but he's barely international. He had played in the NBA before going to Spain.  As for D-Leaguers, Sean Kilpatrick qualifies. That's it.
You have to hope that players like Johnson and the draft picks --and their second year players who missed do many games-- will develop nicely or at least some  will.  But you also have to hope they can win some games, so some damage, show progress as well as development.  There is a difference.
The Nets could use some experience, too.  As of Sunday, only one of the 11 players likely to wear the Nets uniform this season has started more than 50 percent of the games his team has played over his career. That's Brook Lopez. Lin has started 49.6 percent of his games, Bogdanovic has started 42.6.  The rest?  Johnson has started seven out of 68;  Booker, 112 out of 393; Hamilton, 14 out of 49.
We're sure one of the final four pieces will fix that.
So who's left?
There are names out there. Until Sunday afternoon, we found it hard to believe that the Nets would tender another offer sheet to an RFA, like Allen Crabbe. The Blazers apparently let it be known that they would match up to four years and $72 million, but now it looks like the Nets are pursuing Crabbe.  The David Pick tweet was inaccurate, as far as it goes. it may just be premature. And that's what we're talking about!
Of course, we understand that the Nets are not going to win this season, at least as presently constituted.  It is about development. Could that be a problem?  Sure could. If the Nets win 25 or 30 games, while looking like they're developing young talent, is that going to be appealing to a free agent?  Doubt it. Not coming off a 21-win season and with no draft picks to speak of.  Also we've always thought that winning is part of player development.  It's one reason why we were never crazy about Sam Hinkie's "The Process."  Young players got too used to losing.
Here's some names that bear some watching..
--Brandon Jennings. The Nets had a workout scheduled with the 6'1" point guard Friday morning in Los Angeles. We don't know if that ever took place. The Nets and Lin had a deal that morning and one or both sides might have decided to cancel.  We don't know.  But if healthy, and inexpensive, he could be a nice addition. Before he ruptured his achilles in January 2015, he was playing the best ball of his career. Recovery has been slow. The Nets took a chance on Caris LeVert in the Draft. Would they take a chance on Jennings?  No else seems willing to do it.
--Anthony Bennett. The Nets had him in for two days at the end of May and liked what they saw. He's another kind of risk. He was taken overall No. 1 and is the quintessential bust. But he wouldn't cost much and he's changed his body.  Bennett apparently got an NBA team to secure enough insurance to let him play in the FIBA Olympic Qualifying Tournament, which begins Tuesday in Manila. Does the signing of Trevor Booker mean the Nets are no longer interested.
--Lance Thomas. The free agent Knicks small forward may be out of luck in New York. With all their big signings and trades --Derrick Rose, Joachim Noah, Courtney Lee, they may not have room for him.  Thomas, born in Brooklyn, raised in New Jersey, played well for the Knicks last year, averaging 8.2 points and 2.2 rebounds in 59 games. He's turned himself into a nice 3-and-D player.  Of course, as noted, there's a bit of logjam at the 2 and the 3. Could he play some 4?
--Jordan Hill. The 6'10" power forward could help bolster the front court.  He averaged 8.8 points and 6.2 rebounds last season in 73 games. He's still only 28. The Nets almost went after him in 2014 when he was with the Lakers, but the tax bill would have been a horror.  And how much would he want now?
--Lance Stephenson.  Don't know why we list him, but why not?  He seemed to have rescued his career during a short stint with the Grizzlies becoming the offensive focus the injury-riddled Memphis squad at the end of the season.  And he is from Brooklyn.  At 6'5" and 225 pounds, he can play a number of positions and he likes to bang.  He is different kind of risk from the others.
--Kris Humphries. We are in denial on this one.  Back to the Future?  Apparently, though, it's very real, or at least that's what Stefan Bondy thinks, and he covered the Hump back in New Jersey and the first year in Brooklyn.  Now 31 and in his 12th year, Hump played in Washington, Phoenix and Atlanta in that order last season. He can still put up 8 and 8 and  has improved his three point shooting.
No doubt, there are more. There always are..
Summer league approaches
The Nets summer league team gets on a plane Tuesday.  The roster hasn't been officially announced.  But trolling through social media, we have 13 names, including four members of last year's squad.
— Chris McCullough, 6'11" PF, Brooklyn Nets

— Sean Kilpatrick, 6'4" SG, Brooklyn Nets

— Rondae Hollis-Jefferson,6'7" SF, Brooklyn Nets

--- Henry Sims, 6'11", C, Brooklyn Nets

— Isaiah Whitehead, PG/SG, Seton Hall

— Yogi Ferrell, 6'0" PG, Indiana

— Beau Beech, 6'9" SF, North Florida.

— Egidijus Mockevicius, 6'10", Evansville
— Marcus Georges-Hunt, 6'5" SG, Georgia Tech

— Josh Magette, 6'1" PG, Los Angeles D-Fenders

— Aaron Thomas, 6'6" SF, MLP Academics, Heidelberg, Germany

--- Jerrelle Benimon, 6'8" SF, Foshan Long Lions, Germany

— J.J. O'Brien, 6'7" SF, Salt Lake City Stars
Caris LeVert, the Nets first round pick, won't play still recovering from last March's foot surgery. He said this weekend he expects to be back in a "couple months."
Who do we think he has a chance to graduate to training camp? At least two of the summer leaguers have partial guarantees according to local media: Ferrell and Mockevicius. Some of the others are intriguing. Aaron Thomas has been working out at HSS Training Center for a couple of weeks apparently. Magette led the D-League in assists and steals. Benimon averaged 25 points a game in China. We list Sims, based on social media reports, but the latest social media reports he's attracted the interest of Maccabi.  So we await the final roster.
What to look for?  Has Hollis-Jefferson improved his shot? Has Chris McCullough bulked up? Can Sean Kilpatrick show the all-around guard skills to give him separation from all the other 1's, 2's and 3's the Nets are drafting, signing.
Here's our report on the schedule.
Joe Johnson's timing
We know we have to move on to the new No. 7, Jeremy Lin, but we still have place in our hearts for the old one, Joe Johnson and his decision to sign with the Jazz this weekend gave us a laugh. Johnson's timing was always imbeccable Ask all those teams that saw him leave no time on the clock when he hit those game winners.
Now, we see, that timing also applies to years as well as seconds. Closing in on his 35th birthday, Johnson had just finished up his $123 million, six-year deal, aka "that contract",signed in Atlanta but mostly paid in Brooklyn.  After a mediocre season with the Nets, he ate $3 million to get his freedom and played well for the Heat at season's end. Still, one had to think Johnson would consider retirement and the Heat didn't seem that interested.. Nope, he went back into the very lucrative free agent market and got $22 million over two! That will bring his total career earnings to more than $200 million. It will also give him a chance to move up in some career categories, helping his quest for a Hall of Fame niche.  We wish him well.
The rebuild so far...
It's been about new players rather than new staff this week, but we figured we would include it one last time because, well, the rebuild is just about done. The Nets added two assistant coaches from the Cavaliers organization, one from the Cavs themselves, Bret Brelmaier, and the other from their D-League club, Mike Batiste.
Here's what looke to be close to a final list..
--Sean Marks, 40, General Manager, hired from the Spurs, February 18.
--Trajan Langdon, 40, Assistant General Manager, hired from the Cavaliers --after three years with the Spurs, March 8.
--Alton Byrd, 58, Vice President of Business Operations, Long Island Nets, hired from the Atlanta Dream of the WNBA, announced March 24.
--Andrew Baker, 26, Coordinator, Strategic Planning, hired from the Spurs in March, announced May 5
--Ronald Nored, 26, Head Coach, Long Island Nets, hired from Northern Kentucky --after two years with Celtics, April 15.
--Kenny Atkinson, 48, Head Coach, hired from the Hawks, April 17.
--Jacque Vaughn, 41, Lead assistant coach, hired from the Spurs, reported April 30, announced May 16.
--Natalie Jay, 33, cap and contract specialist, hired from the 8th Circuit, U.S. Court of Appeals, announced May 5.
--Shelden Williams, 32, pro scout. Last job with the Tianjin Lions of the CBA, announced May 5.
--Charles Payne, 50, pro and college scout, hired from Stanford University, announced May 5.
--Jordan Ott, 31, assistant coach, hired from Hawks, reported May 13, but not yet officially announced.
--Adam Harrington, 35, assistant coach/director of player development, hired from Thunder, reported May 21, but not yet announced.
--Chris Fleming, 46, assistant coach, hired from Nuggets, reported May 24, but not yet announced.
--Will Weaver, 31, special assistant to the head coach, hired from the 76ers, reported June 7, but not yet announced.
--Zach Weatherford, 45, director of player performance, hired from the Naval Special Warfare Command, announced June 9.
--Dan Meehan, 34, head strength and conditioning coach/sport scientist, hired from the  North Melbourne Football Club, announced June 9.
--Aisling Toolan, 31, director of physical therapy, hired from the Hospital for Special Surgery, announced June 9.
--Mike Batiste, 38, assistant coach, player development, hired from the Cleveland Cavaliers where he worked with the D-League Canton Charge, reported June 27, not yet announced.
--Bret Brelmaier, 28, assistant coach, hired from the Cleveland Cavaliers. reported July 3, not yet announced.
Also, Ryan Gisriel, 26, has been promoted from assistant to the General Manager to Director, Basketball Administration, announced on May 5, and Lloyd Beckett, 31, has been promoted from assistant trainer to trainer/physical therapist for the Nets.  Aaron Harris, who had been No. 2 behind the departed Gary Sussman, has assumed the top P.R. role.
Final Note
The addition of Jeremy Lin will have a lot of implications and consequences on the court, but we can already see something else. LinSanity is real. His fans are likely to change the Nets fan base. It's not just the Asian-American connection or the international link. Jeremy Lin fans are passionate, as we noted above. We mean, REALLY passionate.
You can see it in the deep statistical dives. You can see it in the video compilation of head shots Lin took without getting calls.  As Andrew Keh noted in his story on that controversy, the video was put together by a 48-year-old "stay-at-home mom" who after putting her children to sleep spent three hours a night for six straight nights "hunkered down at her computer."
They have fan portals, lot of them, in different languages, hosted in different countries. He has his own fan site, which includes a personal journal, a store that features a Jeremy Lin action figure, even the online "JLin Prayer Group." We don't want to say --yet-- that not since the Boston trade has the acquisition of a player affected the way the Nets are perceived. But there is that potential.