We are in free agency withdrawal. We keep waiting on the next WojBomb, but even though Sean Marks said the Nets aren't done, the pace is different and with 15 roster spots filled, we don't expect much.  So we will do our best.
Long Island Nets ... we got next
The Nets didn't exactly announce its D-League staff last week, but it pointed out that the team website was up and running.  A quick look around the site showed that Sean Marks had filled the key positions for the club: Ronald Nored, whose appointment had been previously announced, is the head coach; NBA veteran Ryan Gomes is his assistant; Trajan Langdon, who's Marks' assistant GM, will serve as the lead guy for the L.I. Nets while long-time Nets staffer Matt Riccardi will be assistant GM and scout.  Ale Oliviera, assistant trainer of the year while with the Brooklyn Nets, will move over to the Long Island Nets.
With that out of the way, expect a lot of action in the next few weeks.  in fact, in a way, it already started with Friday's signing of Yogi Ferrell to a partially guaranteed deal.  Ferrell was officially signed by the Brooklyn Nets and he will be in Brooklyn Nets camp trying for one of the 15 roster spots.  But if he doesn't make the parent club, he's likely to wind up as the starting point guard for the affiliate and the partial guarantee helps guarantee that.
Under D-League rules, if an NBA team has an affiliate, the D-League rights of the last few players cut by the parent club automatically go to that affiliate. Of course, the player doesn't have to go to the D-League. He can look to see what's available in Europe, where the salaries are multiple times higher than those in the D-League.
As the New York Times noted earlier this month on D-League economics,  "Players were paid within a tiered system that topped out in the $25,000 range for a 50-game schedule (plus playoffs). Those paltry numbers are projected to rise insignificantly next season, with the league growing to 22 teams from 19."  Players do get housing as well, but it's barely a living wage.
That's where the guarantee comes in. It helps soften the economic (and emotional) blow of being cut.  A player with, say, a $100,000 guarantee, will be paid far below the NBA minimum of $500,000 but still make a nice living.  In effect, an NBA club is subsidizing its affiliate. Two things should be noted about this arrangement: 1) the Nets do not hold onto the player's NBA rights. Any team can call up a D-League player who's not on the 15-man roster, and 2) partial guarantees given to players like Ferrell count against the cap but with $18.8 million currently, the Nets can easily afford spending a few hundred thousand dollars on guarantees as they staff the Long Island team.
Expect to see several other players get partial guarantees in the next few days. Evansville's Egidijus Mockevicius reportedly agreed to a partially guarantee after going undrafted. And the Nets liked what they saw in summer league from Beau Beech out of North Florida and Marcus Georges-Hunt out of Georgia Tech.
Why didn't the Nets do more of this in the past?  With such a heavy luxury tax burden, investing $100,000 in a marginal NBA player wasn't very efficient since luxury taxes would drive the cost up, to $300,000 or $400,000.  Moreover, for the past two year, the Nets didn't have a D-League affiliate, having dumped its arrangement with the Springfield Armor in 2014.  Player development, despite lip service, was never much of a priority under Billy King.  (According to more than one source, King never made the 150-mile trip up to Springfield to watch the Armor play, even when his friend, Doug Overton, was the coach.)
So where does the rest of the roster come from? No doubt, younger Brooklyn Nets players will be assigned to the Long Island Nets once the season begins, but they won't be making that short trip (see below) until mid November.  You'll start to see the Long Island roster fill out next month.
On August 14 the D-League National Tryouts will be held at Basketball City in New York. Players from around the country pay a registration fee of $350 to get a shot at a D-League contract.  Normally, about 30 of the 220 entrants find their way onto a D-League roster. Most recent tryout alumni to get an NBA contract:  Jonathon Simmons of the Spurs.  We all know that story.
Ten days later, the D-League will hold an expansion draft for the Long Island Nets and the two other new affiliates, Chicago's Windy City Bulls and Charlotte's Greensboro Swarm. Each of the 19 current D-League clubs will be able to protect 10 of the 15 players on their rosters. But don't expect much from the expansion draft. Only one player selected by the Raptors new affiliate last year made it to the 905's opening night roster.
The Nets will have their own local tryout as well. The date and location haven't been announced. We have to believe that there's some untapped potential in Brooklyn.
Then, in early November, the D-League's own draft takes place (by conference call).  The three expansion teams will be slotted in the middle of the draft, between those teams that didn't make the D-League playoffs and those that did.
You should expect a lot of player movement between the Brooklyn and Long Island Nets once the season begins later in November.  Brooklyn has a big advantage. Unlike any other affiliate, the Long Island Nets will practice and play in the same venues as the Brooklyn Nets. Sean Marks and the D-League front office will be able to monitor development at the HSS Training Center and watch games at Barclays Center. A player "sent down" or "called up" won't have to make travel arrangements. They will simply move from one locker room at HSS to another, a journey of a few hundred feet.
Marks was GM of the Austin Toros (now Spurs) while in San Antonio.  The Spurs ran players back-and-forth with regularity. Cory Joseph, then the Spurs third string point guard, had five assignments to Austin the year Marks was D-League GM. (The Brooklyn Nets can unilaterally assign any player who's in the first three years of his NBA career to the Long Island Nets. Players with more experience must grant their permission and all get their NBA paychecks while with Long Island.)
It's all part of player development, part of the overall strategy to make up for the loss of all those draft picks ... second round as well as first. It was not a priority in the previous regime. It is now.
The Hoopshype PG poll ... and another one

Hoopshype focused on point guards this weekend, now that free agency is winding down.  Hoopshype ranked all 30 an put Jeremy Lin at No. 22.  Not an unreasonable assessment considering Lin hasn't been a starter the last few years. But Hoopshype also asked fans around the world (Hoopshype is based in Spain) to do their own rankings.
Surprise or no surprise, depending on who you talk to: Lin was ranked No. 1, with nearly three times as many votes as No. 2, Stephen Curry, and more than three times more than the next Eastern Conference point guard, John Wall.
Does that suggest that Lin could wind up starting for the East in the All-Star game?  Whoa, hold on there, you might say. He hasn't even played a game for the Nets. But it is not so crazy. Lin could ride into contention on a wave of popularity. NBA All Star Game starters are chosen by the fans ... worldwide.  He is very popular among Asian-Americans and in China, Taiwan, Hong Kong and Singapore as well. Moreover, he will be playing in New York, the biggest stage in the world. There are a lot of votes to be had in New York.
As everyone recalls, Yao Ming was an eight-time NBA All-Star.  But what few people can recall is that Yi Jianlian came close to All-Star recognition with the Nets despite subpar performances, based purely on his popularity.
In January 2009, Yi was only 140,000 votes behind Kevin Garnett in balloting for a starting spot in the All-Star game ...and 300,000 ahead of Chris Bosh. At the time, a Chinese youth publication took a look at whether Yi deserved the spot, pitting arguments from pro's and con's. The con's won, and the wave of Yi votes slowed.
Lin has never played in the NBA All-Star Game, the LInSanity phenomenon coming too late in 2012 for consideration.  He was added to the rookie-sophomore game at the last minute. This time, Lin will start for Brooklyn from Game 1.  His profile will be higher and (we hope) his production will be as well.
The combination of profile, productivity ... and his fans' loyalty could make for an interesting All-Star vote. As Lin told Steve Serby, "I got the best fans, man. They fly across the country, I get more gifts than I know what to do with."  In fact, Lin is top five in the NBA in social media recognition. A fan-generated campaign to get him into the All-Star game is not out of the question.
We hope that Lin's productivity alone will argue for his consideration as an All-Star. But you can't ignore his popularity. In any event, watch out, John Wall.
Jersey news #1 - Why No. 13 for Anthony Bennett?
We expected Anthony Bennett would choose No. 10 as his jersey number.  He had worn it during his successful run with Team Canada this summer ... and in previous summers.  Other possibilities: Bennett has wore No. 15, his old UNLV number, and No. 24 in his initial three seasons in the league.
Instead he chose No. 13. Why?
"My man Bryce"
That would be his tribute to former UNLV teammate and New Orleans Pelican Bryce Dejean-Jones, who was fatally shot in late May.
Dejean-Jones left UNLV for Iowa State, but remained close with former teammates and coaches, the Las Vegas Sun reports. A UNLV contingent of more than a dozen people, including Bennett and former coach Dave Rice, were in Los Angeles this summer for Dejean-Jones memorial. He had worked his way into the NBA last season with the Pelicans, averaging 5.6 points in 14 games. He showed enough on a pair of 10-day contracts to earn a guaranteed deal.
Now, his uniform number will carry on.
Jersey news #2 - No. 4 goes to Luis Scola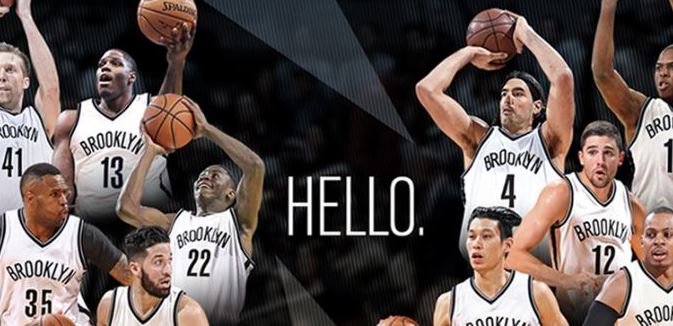 This illustration caught our attention this week.  Not just because it was able to include all TEN new Nets in a small space, but because Luis Scola was shown wearing No. 4.
For years, the Nets No. 4 was listed on the team website as retired.  The uniform had been worn by Wendell Ladner, a 6'5" forward on the Nets 1974 ABA championship team who was killed in a June 1975 Eastern Airline crash at JFK. He was identified by his championship ring.
But Ladner's number was never retired. There was no ceremony.  No. 4 does not hang in the rafters at Barclays Center, nor did it hang at IZOD or the Prudential Center.  As Stefan Bondy reported in 2013, "'longtime Nets trainer Fritz Massmann wouldn't issue Ladner's No. 4 to any other players out of respect" for Ladner. After Massmann retired, Rick Mahorn wore the number for three years in the 1990's.  No Net has worn the number since then, partly because of confusion over whether the number was retired. (Jay-Z wore it when he introduced the Nets new uniform at Barclays Center Opening Night in 2012.)
Now, according to the illustration and the Nets website the same site that listed it as retired, No. 4 will be worn by Scola.  It's been his longtime number, which he also wears on the Argentine national team.  In addition to the numbers shown by the six players at Wednesday's press conference, Isaiah Whitehead will wear No. 15; Greivis Vasquez will wear No. 21; and Randy Foye, No. 2.
ironically, just last weekend, a newspaper editor who was a Nets fan as kid wrote about his reaction to Ladner's death.
Finished product? Not quite yet
If you were out at the Open House Wednesday, you could see the skyline around Barclays Center is changing ... and fast. If you had a view from above, you'd see another change.
After covering up the white metal roof of Barclays Center, including the name, with something close to grass but quite green nonetheless, ownership had to re-brand the arena. After all, it was part of the naming rights deal and the arena is clearly visible on a lot of the approaches into LaGuardia.
So if you haven't flown into LaGuardia lately, here's what it looks like now.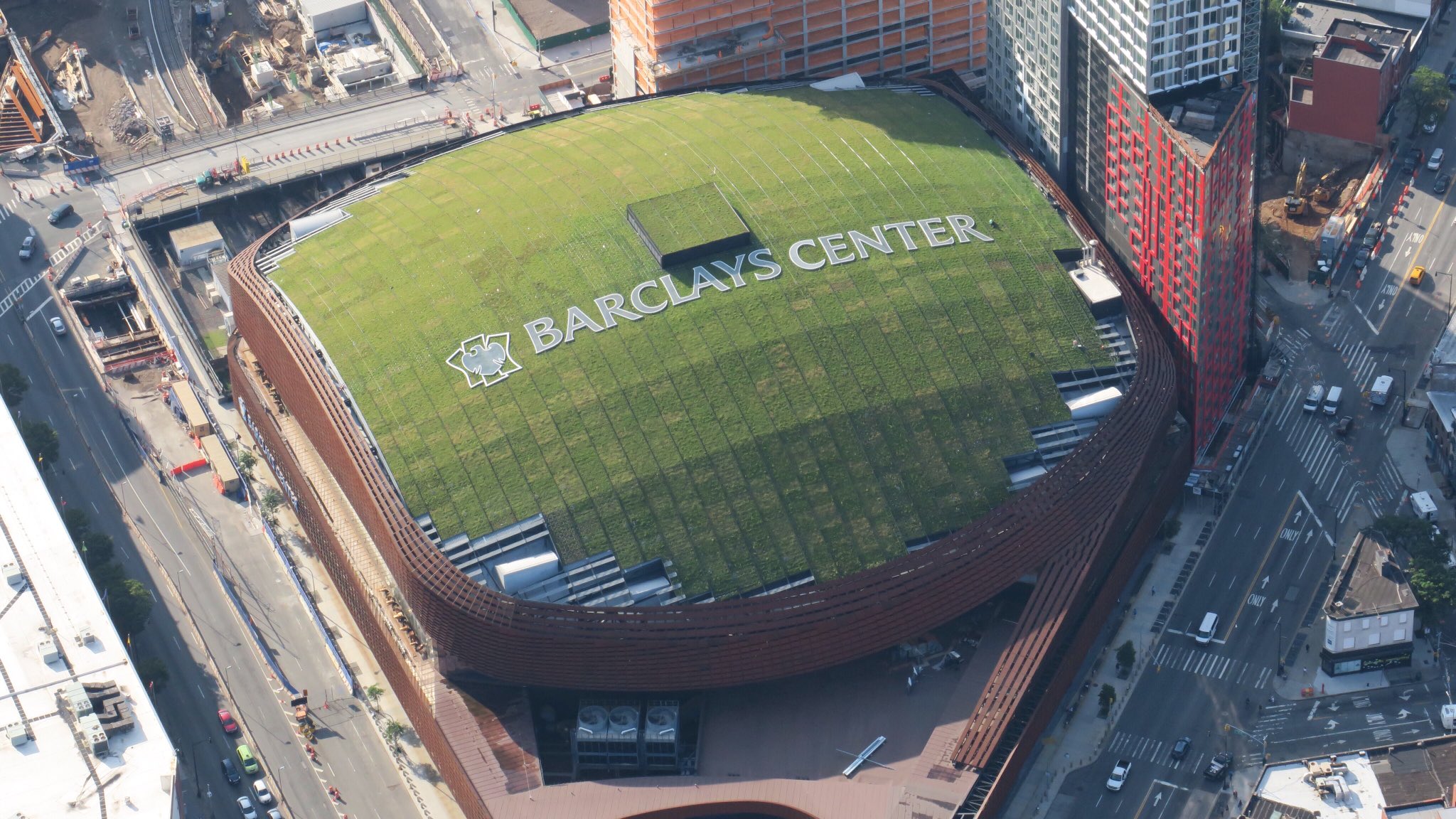 The skyline changes are visible from ground level. The 32-story modular apartment tower at 461 Dean Street (upper right) is complete and the 23-story apartment tower at 38 Sixth Avenue (just to the left of 461 Dean) has topped out. The hole at the upper left will be filled with a 55-story tower, once billed as residential but now likely an office building.
A short walk from the arena will take you past two other apartment towers, at 550 Vanderbilt, which is complete, and 535 Carlton, which has topped out. They are 17 and 19 stories. Another tower slated for a corner across the street from Barclays, 664 Pacific, has been delayed but is planned for 26 stories. The big question is what will the tower planned for the P.C. Richards/Modells site look like. It is slated to be what is known as a "supertall," topping out at a height of 70 or more stories.
All are part of what used to be called Atlantic Yards, but is now known as Pacific Park. Only the modular building at 461 Dean is still majority owned by Bruce Ratner. The remaining towers are part of the Greenland Ratner partnership in which Greenland, a Shanghai development firm, owns 70 percent. Of course, Mikhail Prokhorov bought out Ratner's interest in Barclays earlier this year
Final Note
We've written about Wednesday's Open House ... and its aftermath in the crowded Calvin Klein Courtside Club.  Nearly 2,000 fans were on hand. They lined up on the entrance plaza and along Atlantic Avenue for a half hour before the doors opened.  They cheered and applauded as the six new players spoke and the new GM and head coach held court. Afterwards, inside the club, season ticket holders mobbed Sean Marks and Kenny Atkinson, who wore big smiles as fans asked for pictures.
Standing there, you got a sense that these fans were hungry. They wanted the season to start, wanted to see what Jeremy Lin, Brook Lopez etc can do.  But most of all, as the reception for Marks and Atkinson showed, they were enthusiastic about a change in direction.  Sometimes, we can get cynical, but seeing the fans excitement Wednesday can help cure that.  Lets go, Nets!