Quite the week and who knows, by the time this gets posted, there could be more changes.  The Nets had, by most estimates, a terrific draft. Then, on Day 1 of free agency, they wrapped up their two biggest targets, their own free agents Brook Lopez and Thaddeus Young. They also moved on meeting their overall goal of getting quicker, more athletic by signing Thomas Robinson and Shane Larkin, aged 24 and 22, then adding Ryan Boatright, also 22, on a partial guarantee.  We'll break it all down here and now.
They still need to bring down their luxury tax exposure, not just for business reasons alone. Getting below the luxury tax threshold would give the Nets an opportunity to use under certain circumstances the full Mid-Level Exception, now approaching $6 million; the Bi-Annual Exception, now approaching $3 million, and engage in sign-and-trades, none of which they've been able to do since moving to Brooklyn. As of this writing, Friday morning, the Nets would owe $34 million in luxury and repeater taxes. Not happening.
A critical assessment
In general, we like what the Nets have done this week ... a lot. They set out goals and, so far, have met them. But we decided to do a more critical analysis this week, take a look at what others have written on how the Nets did ...  beyond Chad Ford giving them an A- for the Draft.
Goal No. 1 --Sign Brook Lopez and Thaddeus Young to reasonable contracts.
Despite speculation that Lopez could receive a five-year $100 million deal, he settled for three and $60 million ... with protections (minutes, games?) for the team, but no options for him.  And despite speculation that the Nets offer to Young would be a  "massive overpayment", as one pundit suggested, Young's deal --a little less than $50 million over four years-- is well within range of what others similarly situated received this week. Moreover, there was "no tempest, no buzz."  It got done on day 1.  All the talk of an offer from Milwaukee or that Lopez never wanted to play for Lionel Hollins again was just that.  What talks? Money talks
Kevin Pelton, writing for ESPN Insider on Day 1 deals, isn't so sure either contract  is that good, focusing as so many do on Lopez's history of injury.
What it means: The Nets were the first of many teams to bring back their starting lineups intact, quickly agreeing on new contracts with their frontcourt of Young and Lopez that spurred a playoff run after Young's acquisition at the trade deadline. Those results aside, there's reason to worry about both deals. Lopez didn't crack my top 30 in value because of his poor RPM and injury history. If he stays healthy, he should justify a max salary, but if his foot is problematic again this contract could be a rare overpay. And $50 million over four years is just past the edge of Young's value, which I project at $34 million over the next three.

What's next: A couple of members of Brooklyn's second unit, Alan Anderson and Mirza Teletovic, are restricted free agents. The Nets will have to weigh their value against the cost of leaping far over the luxury tax. Brooklyn already has about $93 million committed to 10 players under guaranteed contract, putting the Nets over the tax line. They might be able to trim that bill by trading Joe Johnson in the final season of his massive contract.
We don't expect the Nets to get high grades when the free agency marks are given out --they didn't add any big names, but it is hard to fault them for doing exactly what they've said they wanted to do.
Goal No. 2 - Move up in the draft, add extra draft picks
Billy King talked before the draft about moving up and maybe getting an extra pick. He did both. In the first round, after taking Chris McCullough at No. 29 --the Nets' interest in him being the worse kept secret in the first round-- he doubled back to No. 23 and grabbed Rondae Hollis-Jefferson with an offer of Mason Plumlee, the rights to Pat Connaughton of Notre Dame, and a willingness to take on Steve Blake, the aging Portland point guard. In the second round, in a bigger surprise, the Nets sent two second rounders -- in 2018 and 2019-- along with $880,000 in cash to Charlotte for Juan Pablo Vaulet, a little known, barely 19-year-old Argentine swingman.
The Nets are very high, and we mean very high, on both Hollis-Jefferson and Vaulet.but RHJ did cost them them Plumlee who is one year removed from All-Rookie First Team and a gold medal in the FIBA World Cup. The Nets were so high on Plumlee early in the season that they wouldn't send him to Sacramento in a deal that would rid them of Deron Williams (see below). But Lionel Hollins could not make the pairing of Brook Lopez and Plumlee work. So the popular Plumlee became an after thought and a trade piece in a much lesser deal.
As for Vaulet, the Spurs reportedly liked him. Manu Ginobili, Vaulet's coach's brother, loves him, He is NOT a good shooter. He shot 10 percent from beyond the arc in the Argentine league and is at least a year away. Moreover, he had to sit out games in the FIBA U19 championship this week because of soreness in the same ankle that was so badly injured two years ago he had to sit for 17 months. Is he a year away, as the Nets hope, or is he someone who we will be scouting two years from now? More about how the Nets found him below.
And what of McCullough, who recently started running after he tore his ACL six months ago? He's a gamble, too.  David Aldridge, for one, likes the RHJ pick/trade but was not enamored of the Syracuse product.
FWIW, I wasn't crazy with taking Chris McCullough out of Syracuse in the first round; he's coming off an ACL injury and wasn't setting the world on fire before he got hurt. We'll see. But getting Rondae Hollis-Jefferson and Steve Blake from Portland for basically Mason Plumlee is a pretty good deal.
Not everyone agrees with Aldridge, either.  Mark Deeks of ShamSports writes Sunday...
Plumlee has been an effective NBA centre for two years, in an ugly yet sustainable way, and is both cheap and capable. Very capable, in fact. So why is his value considered to be that of a #23 pick? And why on Earth was Connaughton added?

Nonetheless, RHJ is here now. He is, sans the spacing issue, what the Nets need, and a player with a lot of potential. If he lives up to some of it, Connaughton's bizarre inclusion won't matter.
Goal No. 3 - Get quicker, more athletic
The Nets were boring, old and underachieving last season. That started to change during the season when the Nets traded Kevin Garnett for Thaddeus Young but the transition into full swing this week, with the draft, the summer league signing of undrafted Cliff Alexander, then the signings of Shane Larkin, Ryan Boatright and Thomas Robinson, the first two were surprises, the third the end of a long pursuit.
They're all young --between 19 and 24; all quick and athletic. The two bigs qualify as hyper-athletic. But over the course of the season, Alexander went from being projected as the No. 2 pick in the Draft to undrafted. And as John Schuhmann points out...




2 new Nets - Larkin & Robinson - both 1st round picks who didn't get 3rd year (in Larkin's case) or 4th year (Robinson) options picked up.



— John Schuhmann (@johnschuhmann) July 3, 2015
And let's not forget: neither Larkin nor Boatright crack six feet.
Here's Kevin Pelton again...
What it means: Having already committed more than $90 million in 2015-16 salary, the Nets did some shopping from the discount aisle Thursday, signing former first-round picks Larkin and Robinson to low-risk deals. Larkin showed promise as a pick-and-roll point guard at Miami, but his small stature has limited his NBA career to date. Robinson, though unlikely to ever fulfill the potential that made him the No. 5 overall pick in 2012, was effective as an energy rebounder off the bench after joining the Philadelphia 76ers late last season. Given the cost, both deals are smart gambles if limited in upside.

What's next: Brooklyn now has 12 players signed to guaranteed contracts, along with three on deals that are partially or non-guaranteed, so the Nets have limited roster spots to work with. They may bring back restricted free agent Mirza Teletovic.
Of course, none of the four cost the Nets much.  Larkin is making $1.4 million next season.  The rest are at league minimums.
Goal No. 4 - Get under the luxury tax threshold
Of course that means move either Deron Williams, Joe Johnson or both.  The Nets would like to dump D-Will. He's owed the most money: $43 million over the next two years and as Ian Eagle pointed out to Evan Roberts, there's a role for Joe Joe Johnson...
"My gut feeling will be that one of them will be on the Nets. Not both. I just sense that the one that will be on the Nets is the one that's going into the final year of his deal. and that would be Joe Johnson...

I agree with you that Joe is the more tradeable commodity, but they look at their team, there's a role for Joe Johnson on this team. As they look at their team in regards to Deron Williams, I'm not convinced that moving forward that Deron can be a part of this.
That's a pretty big nut to crack.  Now that all the big names have been signed, teams who haven't done well and still have holes may be more willing to take a look at players with big deals.
Bottom line: As we've noted, we believe the Nets have done well --so far-- in meeting their off-season goals. To most pundits, keeping Lopez and Young was the most critical task they faced and they did it early.  No tempest, no buzz, we say, quoting the mantra attached to them by William C. Rhoden of the Times last Sunday.
The rest of what they've done is basically low-risk. If Chris McCullough comes back from his ACL injury as quick as he was before, and Cliff Alexander proves teams wrong from not picking him at all, the Nets have picked up two of the top three power forwards from last year's high school class for basically nothing.  In the meantime, we'll just have to wait and be patient on Brooklyn's backcourt
What about shooting??
Remember this video... Brook Lopez shooting three pointers with big man coach Joe Wolf feeding him the ball.



NBD, just Brook nailing threes today at the #Nets practice facility. pic.twitter.com/ek9YL6Ii9W


— Brooklyn Nets (@BrooklynNets) June 15, 2015
Get used to it. If the Nets can't re-sign Mirza Teletovic (career 36.2 percent from deep) and Alan Anderson (34.6 percent) and dump either Joe Johnson (37.1 percent) or Deron Williams (35.8 percent), the big man could wind up beyond the arc on occasion.  He certainly has the range, if not the numbers -- He's 1-of-17 from three in game situations.
Still, the Nets lack of deep shooting could be an issue.  They finished 19th last season in three's. And of all their signings and draft picks, only Ryan Boatright and Shane Larkin have potential, but again, neither crack 6-foot.  Jarrett Jack did have an off year and could return to form.  After averaging better than 36 percent for his career, he dropped to 26.7 percent last season. On the other hand, Thaddeus Young had a statistically aberrant season for the Nets, shooting 38 percent, the best on the team.  And of course, there's Bojan Bogdanovic.
The Nets do want to sign a wing before closing up shot on free agency, but have only $2 million left to hand out. Not likely to get a knock down three-point shooter for that.  Three-point shooting of course has become critical in the NBA. Ask the Cleveland Cavaliers. The Nets were only 19th last season in deep shooting. Will they even be that good next season?
The Philadelphia Connection:
Juan Pablo Vaulet is supposed to fly from Greece to Florida this weekend to meet up with his summer league teammates but he won't be playing in Orlando or Las Vegas where he had been expected to play until he was diagnosed this weekend with ankle and knee issues..
After playing the first two games of the FIBA U19 world championships, where he scored 16 and 15 points, he pulled himself out of game 3 with soreness in his ankle. He didn't play in the next four games after doctors discovered a bone bruise in his right ankle and strained ligaments in his right knee. He's out for a month.  Vaulet lost a year and a half to a serious foot and ankle injury between the ages of 17 and 18, only just returning to action in the last few months.
As noted above,  Nets are very high on the 6'6" swingman with the big hands, long arms and stunning athleticism, even with his ankle history.  How he came to the Nets attention could be termed a Philadelphia story.
Pepe Sanchez was one of what Argentina calls its "Golden Generation," the group of players who came out of nowhere to be a world power on the international stage, players like Manu Ginobili, Andres Nocioni, Luis Scola, etc. Sanchez, unlike most to them, went to college in the US, at Temple where he played well enough to be signed by the 76ers. Their GM? Billy King. Sanchez was always grateful.
After finishing his pro career, Sanchez returned to Argentina and bought control of Bahia Blanca, the legendary Argentine club that produced Ginobili.  So, when he thought he had a player good enough for the NBA, he called King up.  Last January, King dispatched his assistant GM, Frank Zanin, to Bahia Blanca. According to more than one source, he came back raving.
As Sanchez noted last week, "Brooklyn was here in January, were the first. They heard us when we told them we had a guy who played very well and was very good."  He added it was good to "have a connection to the people in Brooklyn."
The Kansas Connection
Cliff Alexander's agent said that when his client was deciding what to do after not being drafted, they went through the 15 to 20 offers they had and looked to see which teams might need the frontcourt depth he could bring. They decided on the Nets.
Indeed when he made the choice, that was true, but since then, the Nets have picked up Thomas Robinson and are still pursuing Sasha Kaun, the CSKA Moscow seven-footer who'd be a 30-year-old NBA rookie.  Ironic much?  All three --Alexander, Robinson and Kaun-- share one thing other than height. They all played for Kansas University.  Jayhawks.
What are the chances the Nets could become the favorite NBA team in Lawrence?  Pretty good, we'd have to say.  They still need to pry Kaun's rights away from Cleveland, which we're told they tried to do without success on Draft Night.  But there's no rush.
Shane Larkin's farewell to the triangle
Shane Larkin was known as a pick-and-roll specialist at the University of Miami, didnt play much because of injuries at Dallas, then was forced into the triangle in New York, not conducive to the pick-and-roll.
So it's no surprise that he was happy to depart Manhattan from Brooklyn.  The eagle eyes over at SNY Nets found a Twitter exchange between Larkin and a Nets fan that proved it.  It wasn't up for long.  Larkin deleted it.  It is preserved on the SNY site.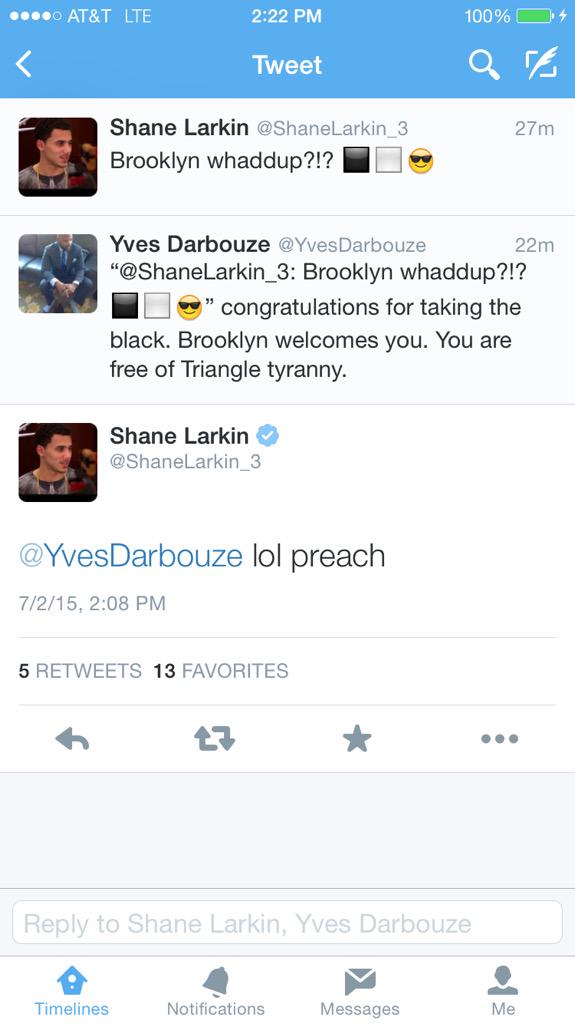 No one knows how much of players' disdain for the triangle is hurting the Knicks in free agency but the player who led the Knicks in minutes couldn't wait to get it behind him.
Chris the Stick
With all the attention to those guys who will be playing in the summer league, we thought we'd take another look at the Draft Express Scouting Video on Chris McCullough.  We've posted it before, but not since he was drafted by the Nets.
We don't know when, if at all, this season the 6'10" forward with the 7'3" wingspan will play.  The Nets seem ready to let it play out naturally.  But as some of those highlights show, he should be worth the wait.
Final Note

Jason Kidd did it to the Knicks again this weekend, stealing their No. 1 free agency target, Greg Monroe.  Monroe signed a three-year, $50 million deal with Milwaukee, spurning the Knicks.
As Fred Kerber wrote, it's just Kidd being Kidd when it comes to the Knicks.
"When he was a Net, he did enjoy going over there and kicking their [butt]," a former teammate told Kerber. "There wasn't much that would get him excited in the regular season but going to the Garden did."
In fact, the Kidd-led Nets were 23-4, by Kerber's count,  including a 4-0 playoff sweep in 2004, and two of those losses came in Kidd's final Nets season, when he was traded. One was the infamous migraine game.
Kidd of course played for New York after winning a title in Dallas. It was the Knicks most successful season in their last 15.  And with Monroe not in the picture this season, it's likely to extend to 16,