Moving on.
That's the latest image from the HSS Training Center in Industry City. While the Nets were signing and re-signing and buying out and watching their free agents go elsewhere, contractors were installing a new roof above where the two practice courts will be set up. The roof is the "long pole in the tent" so to speak. Everything else on the $45 million facility is the easy stuff  It's all part of the Brooklyn process.
It's fair to say this was the biggest week for the franchise in two years since the Nets heralded the arrival of four all-Stars, Kevin Garnett, Paul Pierce, Jason Terry and Andrei Kirilenko. It was a big deal, so big that Mikhail Prokhorov flew in on his Boeing to make a cameo, then flew out. But the four were aged 32 through 37 and we all know how that turned out.
On Thursday, the Nets introduced four two new Nets and two returning players, only one of them an All-Star and him only once.. Prokhorov stayed home. Brook Lopez, Thaddeus Young, Shane Larkin and Thomas Robinson all arrived by subway. And this foursome is aged 22 through 27, a full decade younger.
The contrast was telling. It's no longer all about stars. (Ask Deron Williams.) It's about incremental movement. No doubt, they were limited in their options.  By week's end, the Nets had added two more free agents, Wayne Ellington and Willie Reed.  Of the six signed Thursday and Friday, Ellington is the oldest at 27, months older than Lopez and Young. Larkin is only 22 and would be a college senior if he had stayed in school.
On Friday, the big news broke. Marc Stein reported that the Nets were in talks with Deron Williams to end his four and a half years in Brooklyn with a buyout.  Hours later, the deal was done and the Nets prepared to waive, buyout and stretch the former franchise player.
As we noted last week, the Nets had four goals this summer: move up in the draft; re-sign Lopez and Young, find younger, more athletic role players, and get under the luxury tax.  By Friday, they had accomplished all of them. They lost three rotation players along the way: Mason Plumlee, Alan Anderson and Mirza Teletovic.
There were both business and basketball reasons to dump Deron Williams.  Yes, they wouldn't have done it without it helping them get under the threshold and the team will save as much as $60 million over the next two years in salary, luxury and repeater taxes. In fact, a team investor told us that the team may even make a profit this season. From a basketball operations standpoint, the Nets will have $39 million in salary cap space, in the upper half of NBA teams, next season.  They could, if they wanted to, use some of the MLE to sign a player right now (although they'd be hard-capped).
The plan for 2016 was always to attract players by having enough cap space --and good players.  The dream of a big free agent like Kevin Durant is probably over. He will have better options, starting with OKC.  Think two good players.  Think sign-and-trade, an option now open to the team or even an imbalanced trade into all that cap space. The Nets are in a different place now.
Rising Rondae
The Nets gave up a lot for Rondae Hollis-Jefferson. They sent the Trail Blazers Mason Plumlee, who has shown promise as a big man and was first team all-Rookie; as well as the rights to Pat Connaughton, a hyper athletic swingman. They were also forced to take on Steve Blake, a 35-year-old back-up who isn't in their long term plans and who they'd like to flip for other assets.
Still, it looks like it was worth it  RHJ is 20 years old and has shown, first in Orlando and now in Las Vegas. Over 30 hours, in two games, separated by 2,000 miles, he played 70 minutes, all 40 in the last game in Orlando, then 30 more in the first game in Vegas. In Orlando, he scored 22 points, grabbed 11 rebounds, handed out five assists and stole the ball four times. In Las Vegas, he scored 15 points, grabbed nine rebounds, handed out four assists and stole the ball another four times.
More importantly, he shot a lot better than expected. Maybe it's his lefty delivery that made people think his shot is broken.  Whatever, as Greg Anthony said in Orlando, whoever said Hollis-Jefferson can't shoot should review his scouting report.  He shot 4-of-11 over the two games from deep, 13-of-32 overall. The overall number isn't great but the three point shooting is, considering how bad his shot was portrayed in scouting reports   More importantly, he shot with confidence taking big shots throughout the game ... with the coaching staff's approval.
The Nets as we've noted before are very high on RHJ, his game, his personality, his character.
Remember the Ian Eagle interview on the FAN where he predicted the Nets would simply "cut bait" with D-Will and that he thought "there was a role" for Joe Johnson, that he was unlikely to be moved.  In other words, Eagle (once again) proved just how tuned in he is to what's going on within the organization.  So consider in that context what he said on June 29 about Hollis-Jefferson.
"They're building their team around Brook Lopez and Thaddeus Young ... and Rondae Hollis Jefferson. To me,  To me, that's what's happening."
Heady stuff that.  You can see it elsewhere as well. On the Nets social media, there have been multiple videos and galleries of RHJ, built mainly on his personality.  It's not an accident.
Here's the latest, Rondae and Markel go to the Universal Studios.
Summer League Notes
The Nets have a few decisions to make on money for their summer league players in the next couple of weeks, decisions made easier by the D-Will buyout.
On July 15, the Nets can extend Markel Brown and Cory Jefferson's partially guaranteed deals by depositing $150,000 each in their bank accounts.  Brown received $100,000 on July 1. This would be Jefferson's first payment on his guarantee.
On August 1, the Nets have to decide whether to guarantee Ryan Boatright $75,000. If they do, as expected, Boatright would a virtual lock to get a training camp lock.
Why is this easier, post-buyout?  If the Nets had to pay luxury and repeater taxes, the Nets would be staring at numbers between three and four times higher.  Big commitment to an end-of-the-bench player. Now, by going under the luxury tax threshold this season and the salary cap next, those decisions can be made purely for basketball, not business reasons.
As the Orlando summer league wore on, there were positives despite the 0-5 record.  Cliff Alexander is raw, but his physical attributes are so impressive, you have to think about setting aside a roster spot or at least a training camp invite for him. He seemed to improve as he went along, although he didn't look so good Saturday night in Las Vegas.
Markel Brown, who was just horrid early on, also improved as the league went on. He looked confident like a second year player should, particularly one who started 29 games on a playoff team.  He still hasn't had the breakout game you'd expect to see.
The Nets liked Jonathon Simmons, the 6'6" swingman who played the last two years for the Austin Spurs in the D-League. He threw himself on the court, played a versatile offensive game. Problem is the Spurs liked him more and on Friday, gave him a two-year deal, with the first year guaranteed.  We don't know if the Nets were offering anything close eo that.
Maybe the most impressive thing to happen Saturday night in Las Vegas wasn't the team's first win of the summer. Maybe it was the decision by Jarrett Jack and Joe Johnson to fly into Sin City and watch the games.
"Joe and I flew in last night. Going to mix in and help these young guys figure it out. Going to lead with my actions," said Jack, the likely starting point guard come November 1. Fans thought these two guys were the most likely to be ex-Nets by this weekend.  Instead, they're the leadership core.  Who knew?
Salary notes
Eric Pincus at Basketball Insiders has some details on the contracts signed by Nets newest players this week. Here's some of them.
--As has been noted, the new, higher salary cap increased Brook Lopez's deal from $60 million over three years to $63.7 million.  He will now make $19.7 million this season and become a $20 million player in 2016-17, earning $21.2 million. In 2017-18, he will top out at $22.6 million.
--Wayne Ellington's deal is slightly richer than that of his backcourt mate, Shane Larkin. Both with make $1.5 million this coming season, splitting the mini-MLE, but Ellington will make $1.567,500 in the second year, $67,500 more than Larkin. Both are guaranteed two year deals.
--Thomas Robinson will make the vets minimum of $981,348 this season, with a player option for $1.05 million in 2016-17.If he does well, expect him to opt out and into all that TV rights money.
--Steve Blake cannot be traded in a multi-player package until August 25, 60 days after he was traded in the Plumlee - Hollis-Jefferson deal.  He can be traded at anytime for another player or pick(s).  The seven players signed this week cannot be traded until at least December 15 in any kind of a deal.
--Earl Clark and his $1.2 million deal is completely non-guaranteed until October 26, the day final NBA rosters are set. If he is still on the team at that point, he will get $200,000. Before then, he can be traded and cut without his new team paying him a dime.
--The Nets only have $45.4 million committed next summer when the cap could be as high as $90 million. That puts them dead middle of the 30 NBA teams.
The coolest job title

Brennan Blair is the Nets "coordinator of basketball technology." It's a unique title in the NBA. So what does he do?
In an interview with the Seton Hall (Go Pirates) alumni magazine this month, Blair describes himself as a "utility man" who supports the team's front-office operations by scouting for the Nets throughout the Northeast, managing video operations and overseeing the operation of the Barclays Center's six SportVU cameras. Mostly, though, he is about the data.
"The last five to 10 years have seen a flood of information become available," Blair says. "The next five to 10 years will be working on how to code the data to get the most useful information from it."
Central to the data challenge is SportsVu, it precisely tracks the positions of players and the ball and uses the data to produce statistics on everything from player separation to the effectiveness of different defensive alignments with previously impossible accuracy, as the magazine writer describes it.
The Nets are quietly using more and more analytics, say insiders, with Blair and another 20-something, Director of Analytics Glenn DuPaul, getting more and more leeway ... and the coach's ear. One insider tells NetsDaily the team used analytics extensively in its Draft preparation.
Their best games
We hunted all over YouTube for the best games of the vets than Nets signed this week to show you what in the extreme end of the scale they can do.
Thomas Robinson, February 23, 2014 - 14 points, 18 rebounds...
Wayne Ellington, January 28, 2015 - 28 points...
Shane Larkin, January 17, 2014 - 18 points, 5 assists...
Willie Reed, February 27, 2015 - 31 points (D-League)...
Andrea Bargnani, February 27, 2015, 25 points...
<iframe width="854" height="510" src="https://www.youtube.com/embed/ozWzrGZemnY" frameborder="0" allowfullscreen></iframe>
Let's hope they can replicate them.
Final Note
Pay attention to the banner.  The Nets press conference introducing Brook Lopez, Thaddeus Young, Shane Larkin and Thomas Robinson had a new backdrop banner.  It did not read, "We are Brooklyn."  Nor "We are All-In". Nor the latest slogan, "We are Neighbors."  It read, "We are Continuity/Core/Youth/Commitment."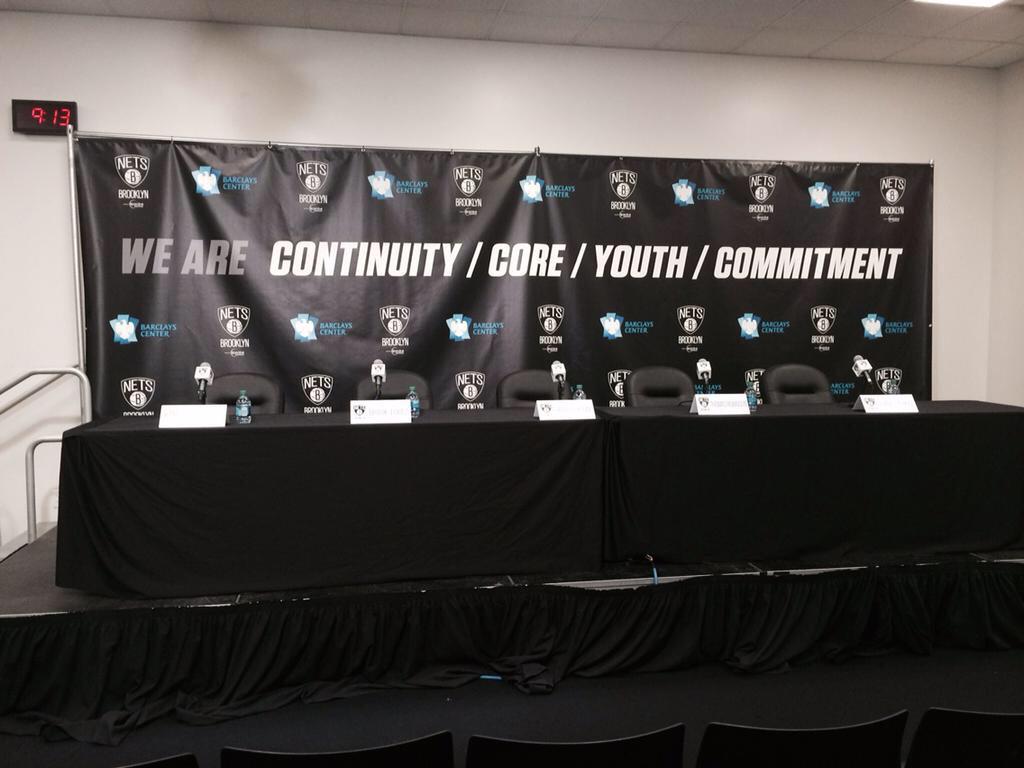 Reading between the lines, "continuity" = the lack of coaching change for the first time in Brooklyn; "core" = keeping the key players around; "youth" = getting younger with nine players under 25 and "commitment" = players who want to be here, as opposed to those who don't ... and are now gone.