It's no shocker to note that, as a team, the Nets are the highest paid basketball players in the world. With a payroll of nearly $90 million, they're the NBA's highest paid team. Players in Europe --and China-- are paid nowhere near the NBA level.
Now, a British sports money site has compared the average salaries of pro athletes across sports and around the world.  By that measure, the Nets players are, on average, the 11th best paid group of pro athletes in the world.
According to Sporting Intelligence, the Nets players make $6.25 million per year on average.They're the only NBA players in the top 12. Here's the list. Note that the Nets were sixth last year.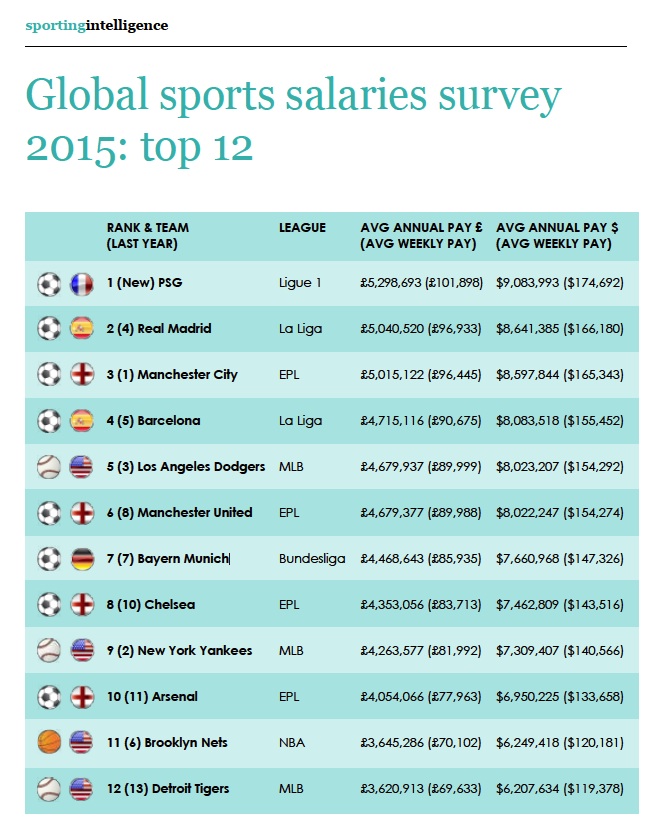 Among the top 12 teams, eight are soccer teams, including the top four; while three come from baseball, the Dodgers, Yankees and Tigers; and one from basketball, the Nets. Four of the top 12 top based in the U.S. and four in England, with two in Spain and one each in France and Germany.
Who's the highest paid? The soccer players who toil for Paris Saint Germain or PSG. They're paid, on average, $9.1 million per year.  PSG is owned by the Qatari government, through Qatari Sports Investments.  QSI, which has also invested in BeIn, the European sports network, was identified by the New York Post back in March as a possible investor in the Nets.
Qatari Sports Investments, purchased PSG in 2011, and made it one of the richest in the world. It also has an extensive sponsorship deal with F.C. Barcelona, the Spanish sports powerhouse. In February, there were rumors of QSI interest in the Red Bulls.
There's been no indication since of QSI's interest in the Nets, who only want to sell a minority share, no more than 49 percent, rather than the whole operation.