Every weekend, we update the Nets' off-season with bits and pieces of information, gossip, analysis, etc. to help take the edge off not winning the NBA championship. We rely on our own reports as well as what the Nets' beat reporters and others have slipped into larger stories, blogs and tweets...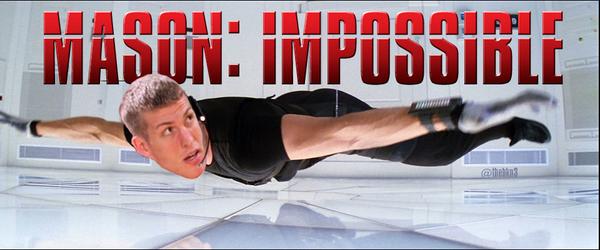 All Hail Mason Plumlee
First of all, thanks to @TheBKN3 for the above
Who would have thought the first Nets' Team USA member to wear No. 11 would be Mason Plumlee and not Brook Lopez. Plumlee made it early Saturday morning. If a month and a half ago, you'd have suggested that, you'd have been labeled a homer and your basketball opinion forever dismissed. But strange things happen and Plumlee benefited from a unique set of circumstances as well as his fast-developing skill set, particularly on defense.
Mike Krzyzewski said this week that Plumlee may not be consigned to back-up center, that he thinks his former charge can play power forward, and with a weak schedule early, there will be plenty of room for experimentation.
There is one downside for him.   Assuming Team USA makes it the medal round, Plumlee won't be returning to the US for three weeks.  The championship game is September 14. Assume the USA Basketball charter leaves Madrid the next day, that won't give Plumlee much time to rest. Media Day is September 26 and after a preseason game against Euroleague champion Maccabi Tel Aviv on October 7, Plumlee will be on another charter the next day, bound for China and the Global Games. Two of his Team USA teammates will face the same challenge.  The Nets play the Kings, with Rudy Gay and DeMarcus Cousins, in Shanghai and Beijing.
FIBA World Cup and the Nets
This could be an incomplete list, but as far as we know, here's the Nets connections for the FIBA World Cup, which starts next weekend...
USA: Mason Plumlee, player; TJ Zanin, advance scout; Dr. Riley Williams III, team physian
Croatia: Bojan Bogdanovic, player
Mexico: Jorge Gutierrez, player
Philippines: Andray Blatche, free agent
Ukraine: Mike Fratello, head coach; Joe Wolf, assistant coach
By this time next week, everyone will have played one game. On Saturday, Team USA plays Finland in Bilbao; Croatia plays the Philippines in Sevilla, Mexico plays Lithuania in Gran Canaria; and Ukraine plays the Dominican Republic also in Bilbao. If you're interested in watching teams other than Team USA, LIVE TV is offering a $9.99 World Cup pass. You can order it here.
Mirza Teletovic (Bosnia) and Sergey Karasev (Russia) will wrap up their play in the FIBA Europe Qualifying Tournament this week.  It looks like Bosnia will make it and be invited to the FIBA Europe tournament next season, but Russia is going to have a hard time qualifying.
Traffic changes galore near Barclays
If you're trying to convince someone not to drive to Barclays Center next season, here's a list of reasons why: traffic changes around the arena.  This week, Barclays posted this notice about the changes...
Starting in July 2014, you will notice construction on Atlantic Ave. for a brand new Long Island Rail Road tunnel. Please be aware of the following temporary traffic pattern changes:

Minimal space for pick up/drop offs near the Calvin Klein VIP
Atlantic Ave. median is now a travel lane for eastbound traffic
Pacific St. between Carlton and 6th Aves. is one-way going westbound
Pedestrian walkways are not expected to be effected until September
Other areas for pick up/drop off (adjacent to Barclays Center) are on Flatbush Ave. northbound between 5th Ave and Atlantic Ave.

Our operations team is working closely with city agencies to mitigate traffic. However, we advise Barclays Center guests to allow for additional travel time when driving to the arena. As always, we encourage our guests to use mass transit to Barclays Center...
The Atlantic Yards project, recently named Pacific Park, is revving up.  Fans will notice that B2, the 33-story residential tower at the south end of the arena, is now nearly 10 stories high (and very much delayed).
Also, the LIRR railroad tunnel under Atlantic Avenue, is being reconfigured so Bruce Ratner and his new Chinese partner can build a platform over the adjacent LIRR rail yards and ultimately construct new apartment towers atop it.
The installation of a green (sedum) roof at Barclays is about to get underway as well. Trailers will start showing up soon at the back of the arena.  The 400-place bike stand is being downsized to 45 as a result.  It never reached anywhere near capacity anyway and at Saturday night's Arcade Fire concert, there was valet bike service. We may see more of that.
Across Dean Street, the old Bergen Tile building is gone, soon to be replaced by an eight-story apartment tower.
How long will construction activity surround the arena? It's uncertain, but a good estimate would be "forever.". Here's an overview of current projects, courtesy of Atlantic Yards (Pacific Park) Report
One saving grace...the opening of Shake Shack across Flatbush from Barclays.
Players starting to return to New York
Although one-third of the 15-man roster is in Europe this weekend, along with one assistant coach, other players are returning from overseas.  Brook Lopez is back from Russia, etc. Earlier this week, he helped Bobby Marks give a tour of the arena to prospective season ticket holders. He is reported to be in high spirits as he begins testing his reconstructed foot.  Andrei Kirilenko, who accompanied Lionel Hollins to South Africa for Basketball Without Borders, returned to his Manhattan apartment this week. No word on Deron Williams, but he will be in New York on September 15 for his annual Point of Hope Dodgeball Tournament. His recovery from ankle surgery is reportedly on track, meaning he is expected to begin basketball-related activity next month.
Practice Facility Arms Race Continues
The Toronto Raptors on Friday unveiled their plans for a new practice facility. It's the latest salvo in what one owner called the "arms race" among teams for the biggest and best practice facility continues.

The Raptors facility, at Toronto's Exhibition Place, will have all the amenities the other new or planned facilities have, including two courts, offices, training rooms, etc. Like the others as well, it replaces a smaller facility.  It is being hyped as critical to signing free agents, a symbol of the team's commitment to excellence.

In the past, training facilities were afterthoughts, often cramped facilities either in the team's home arena or leased from someone else. The Nets before 1998 practiced in a warehouse and showered with truck drivers. The 76ers are still working out at a small facility at the Philadelphia College of Opthamology while they await completion of their new facility on the Delaware River in Camden.

According to press reports, of the 10 facilities either completed or planned in the last five years, the planned Philly center is by far the largest, at 120,000 square feet, with the Nets HSS Center next at 70,000 but the Nets list of amenities is the most unique, with a rooftop players lounge team members can use while working out in the summer and early fall. Atop the eighth floor of a century-old warehouse in Brooklyn's Industry City, it has spectacular views of Lower Manhattan and the Statue of Liberty.  The Cavaliers' Cleveland Clinics Courts is probably located in the most beautiful spot, a multi-acre wooded site in Independence, Ohio. It was built to keep LeBron James in Cleveland ... and it's where he will practice again.

Here's a list of the 10 facilities either completed or plans unveiled, with their square footage, from smallest to largest...

Clippers 42,000 square feet
Pelicans 50,000 square feet
Cavaliers 50,000 square feet
Timberwolves 52,000 square feet
Thunder, 55,000 square feet
Bulls 60,000 square feet
Raptors 65,000 square feet
Nets 74,000 square feet
Sixers 120,000 square feet
Of course, it's not all about space. It's about amenities and we can't imagine any that will match the Nets planned rooftop lounge for players with this view...



In addition to those named above, the Lakers have chosen a site in El Segundo, CA, but have yet to release details on what they're going to build and the Wizards continue to look at potential sites in and around Washington.  Both the Kings and Warriors plan training facilities within their new downtown arenas. That means half the league's teams have either opened a new facility or announced plans for one in last five years.
Final Note
Still no word on training camp invitations although two summer league players we thought might join the Nets in October have gone elsewhere. DaJuan Summers has signed  Herbalife Gran Canaria of the Spanish league and Adonis Thomas, who played well for the Armor last season after being cut in camp, will be in Pacers camp.  Thomas has potential, but he's failed to gain an NBA foothold with the Hawks, Nets, Magic and 76ers, all of whom signed him to camp or 10-day contracts.
Last season, the Nets didn't release their final training camp roster until Media Day.