The wait is over. After sleepwalking through the final days of the regular season after clinching their playoff spot, the Brooklyn Nets open the 2014 Playoffs up north. At the beginning of the season, a lot of us were Championship dreaming. That isn't out of the question, but without Brook Lopez, the road to the Finals is gonna be a bit tougher.
Awaiting the Nets will be the Atlantic Division champion Toronto Raptors. The Raptors are in the playoffs for the first time since the 2007-2008 season and won the Division for the first time since 2006-2007. Throughout the offseason and at the beginning of the year, the teams pegged to win the Atlantic were the Knicks and Nets. Obviously, that didn't happen.
The teams met four times in the regular season and the series split.
But in Toronto, they're confident, as evidenced by the front page of the tabloid Toronto Sun. Talk about your bulletin board material!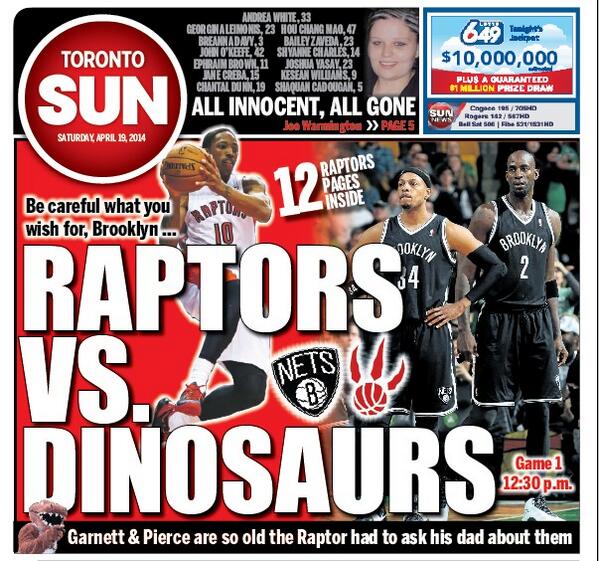 The 2013-2014 season
Here's how these teams performed:
| | | |
| --- | --- | --- |
| Metric | Brooklyn | Toronto |
| Record | 44-38 | 48-34 |
| Pace | 93.68 | 94.42 |
| Offensive Efficiency | 104.4 | 105.8 |
| Defensive Efficiency | 104.9 | 102.4 |
| Offensive Rebounding percentage | 21.7 | 27.2 |
| Turnover rate | 15.4 | 14.8 |
| Assist rate | 16.8 | 16.5 |
| Rebound rate | 47.1 | 50.9 |
| Free throw rate | 31.3 | 30.6 |
| Effective Field Goal percentage | 51.4 | 49.8 |
| Opponent Effective Field Goal percentage | 50.9 | 49.3 |
Everybody's ready to go. Jason Kidd rested Shaun Livingston, Alan Anderson and a bunch of other Nets as they dealt with their nagging injuries. The Raptors are coming in at 100 percent.
When Garnett and Pierce (Jason Terry too but he's no longer here) came to Brooklyn last offseason, their experience was a major selling point. They both have two trips to the NBA Finals and tons of games and tons of games played in the other series. This was Garnett's worst season as a professional, but his play was much, much, much (I seriously can't emphasize this enough) once he moved over to Center. He's only crossed the 30 minute mark once this year and I do wonder how long he's going to play. As for Pierce, he's settled into his role as the second option on the Nets offense. After his initial struggles, Pierce rebounded and shot 37 percent from three point range, good for fourth best on the team.
Throughout his career, Joe Johnson has under-performed in the postseason. Last year, injuries slowed him down and it culminated in a disastrous Game Seven loss at home to Chicago. He doesn't appear to be seriously injured coming into this series and he'll look to continue the success he's had this season. Johnson averaged 15.8 points on a true shooting percentage of 56.4 percent, a career high. What helped him and the Nets offense was his success from deep. He had a few record breaking evenings along the way as he shot a career high (and team high) 40.1 percent from deep. I think he'll have a good amount of success when he gets into the post. He has the size advantage over both Terrance Ross and Demar DeRozan and should look to take advantage of that and get to the free throw line.
After Rudy Gay was traded to Sacramento, Demar DeRozan began to flourish. Back in January, Raptors HQ manager told our own Dennis Velasco:
Truth be told, I was never a big believer in DeMar DeRozan.  Not that he didn't work extremely hard to try to improve his game, but even based on his play at USC in college, I always thought he was too inefficient and one-dimensional to be an impact player in the NBA.  However I'm thrilled to be wrong on this one as this season, we're starting to see the player Bryan Colangelo may have thought he was drafting back in 2009.  We're now seeing a player who is much more efficient as a scorer, does a better job creating for teammates (especially post-Rudy Gay), and who contributes in other areas rather than simply scoring, each night.  He's still got a ways to go on D, and needs to continue to improve his long-range shooting, but he's certainly an All-Star possibility this season, something I would have said was a ridiculous thought, prior to this campaign.
DeRozan went on to make the All Star Game and averaged 23 points after Gay departed. Where DeRozan is most effective is when he drives to the basket. He does it seven times a night and gets five points a game off of them. What the Nets will look to do is keep DeRozan on the perimeter. He's been solid from the midrange (39 percent is right around league average), but he's much more effective at the basket, making 64 percent of those shots. He's only shooting 30 percent from three point range, but he's much more successful shooting from the corners.
Outside of his DUI arrest, it's been a pretty nice year for sophomore Jonas Valancianus. He only missed one game, saw a dramatic increase in his minutes per game and had a bigger role in the Raps' offense. He's also managed to play well in the four matchups with Brooklyn in the regular season. In about 25 minutes a night, he averaged 10 points and eight rebounds while shooting 50 percent from the floor. He's had some success in the high post, but he's most effective crashing the glass. JV is one of the better rebounders in the Association, and that could pose a problem for Brooklyn. The Nets didn't rebound well throughout the season and if they're not forcing turnovers, that lack of success could hurt. Andray Blatche has struggled lately so Mason Plumlee might be the first big man off the bench. Valancianus has a foul problem (tenth in total fouls) and that will help Blatche when he and Valancianus are in the game at the same time.
Player to watch:
Kyle Lowry
Lowry has been one of the better point guards in the Association since he became a full time starter in 2010, and he's managed to become even better. The former Rocket set career highs in turnover rate, true shooting percentage, minutes, assists and points. He's certainly earned consideration for the All-NBA teams. Coming into the year, there was talk that the Raptors might move him and rebuild. Luckily, that didn't happen and he's been flourishing.
Like the Clippers-Warriors and Thunder-Grizzlies games later in the day, the point guard matchup promises to be excellent. Mini-slump near the end of the year aside, Deron Williams had a very good second half. He shot a little bit worse as compared to the first half, but managed to cut down on the turnovers. Like Johnson and a lot of other Nets, Williams had a sour ending to the 2013 playoffs. He wasn't as active on offense as we're accustomed to, but he'll be looking for his shot here. Shaun Livingston figures to start off covering Lowry, and he hasn't had that much success against him this year. According to our pal (and site founder!) John Schumann, Lowry has shot 15-26 against Brooklyn's (remixed) Backcourt. The level of play will be much more physical as compared to the regular season and that should help Williams/Livingston out.
From the Vault
Slide on back to the 2007 playoffs and see Jason Kidd in action against the Raptors.
More reading: Raptors HQ