Every Sunday, we update the Nets' off-season with bits and pieces of information, gossip, analysis, etc. to help take the edge off missing the second round of the playoffs. We rely on our own reports as well as what the Nets' beat reporters and others have slipped into larger stories, blogs and tweets....
We write this weekend about KD and KG and dollar signs. KD, now repped by Jay Z (or maybe we should say JZ for the purpose of this paragraph) talked this week about how much he loves OKC "as of today." Is that an opening for a discussion of what the Nets might be thinking long-term? Of course, it is. We also like what we saw with KG in China who wrapped himself in black-and-white, speaking for the first time since the July 18 press conference. It also says something about how the Nets are going to be more aggressive this season in pushing their brand overseas.
We also examine the math --and other complicating factors-- of trying to figure out the Nets valuation, based on Jason Kidd's purchase of a tiny share of the team. It does seem that the Nets are worth, if not a billion, then close. We also note how Russian ownership's experience with Barclays Center has helped them embark on a new business, rehabbing old arenas in New York ... and Moscow. It's not a hobby. It's a business. Plus some pictures.
"As of today"
Those three words resonate loudly in Oklahoma City this weekend. They were spoken by Kevin Durant. When asked by a French fan how he feels about the Thunder, he said...
"I like where I'm at right now. I enjoy playing for OKC. As of today, I love it there, man. I want to be there. I love the fans, I love my team, I love everything about the city. I don't have any plans to move."
As of today.
KD won't be available until 2016, unless he tries to push the Thunder into a sign-and-trade before then. He reportedly is unhappy with the Thunder's moves this summer (and wasn't crazy about the cost-cutting move that sent James Harden to Houston last fall.) He also changed agents and is now repped by Jay Z (more about him later), leading some to suggest he wants to explore big city moves. KD has tried to tamp down the Jay Z speculation, but it's hard.
Would the Nets be interested? Do they play in Brooklyn? Remember what Mikhail Prokhorov told a Moscow reporter back three weeks ago?
"Two years from now, when our payroll will clear, we will be even stronger. I cannot reveal the names of the stars, which, having become free agents will want to go to "Brooklyn." For such things, the NBA would fine me. But, believe me, there are such people. Our front office does not sit around and wait for the future."
Could the Nets owner be talking about KD? Again, do the Nets play in Brooklyn? Of course, he is.
Note as well the Prokhorov said "two years from now," as in 2015, not 2016. If all goes well, the Nets should be under the luxury tax threshold and be able to complete sign-and-trades, as well as sign players to the MLE and BAE. They will have flexibility.
Anyone think stars don't notice what the Nets have done this summer, showing a willingness to spend, spend, spend? Pundits may shake their heads, but fans and players notice, particularly when their own billionaire owner is trying to do all he can to avoid the luxury tax.
J-Kidd already a smart move
As we noted last week, the word from the Nets training facility is that the new head coach is getting kudos for his hard work, learning the trade.
But Danny Ainge in his comments to Bill Simmons on Friday essentially said Kidd had already helped the Nets. Here's what he said about Kevin Garnett deciding to go with the Nets, waive his no-trade clause, forget about retiring.
"Kevin also wanted to win. I think Paul going and Jason Terry going. That was a huge help ... two guys that KG really respects. And i think the Jason Kidd coaching. Jason has been through playing basketball in his late 30's up to 40 and what he has just gone through I think that he probably able to tell KG that 'I've been through this. I know how the body is and I won't wear you out. I'll save you for the important times of the season'."
Ainge also said Kidd may have had some influence, along with Deron Williams, in getting Paul Pierce to buy into the Nets ... and then join in the recruiting of KG.
"I think probably there was some discussion going on there. I don't know that for sure, but my guess is that they had some conversation about it, that Paul was the one that talked KG into wanting to do the deal or letting go of his no-trade clause to make the deal happen and that took some convincing."
KG in China
From the time he landed in Beijing till the time his week ended, Kevin Garnett's popularity was on display. Fans greeted him at the airport and he appeared more than one on Chinese television. He described the fans' reaction as "crazy love." He also clearly associated himself with the Nets, appearing with Brett Yormark at a dinner sponsored by the Nets and then sat with him at an NBA press conference promoting the Global Games.
Garnett's superstar status isn't limited to China. He is among the most popular players around the world and it give the Nets opportunities they haven't had before in their desire to be a "global team," as Prokhorov said back in 2010. Look for more international marketing this year than you've seen in the Prokhorov Era. Also, look for a lot more Russian exposure. The Nets learned that having a Russian owner is not as important as having a Russian player and AK-47 is not just any Russian player. He is one of the greatest Russian players.
How much they worth?
The Jay Z deal has set calculators spinning. If Jay Z sold his small stake in the Nets (putting aside Barclays Center) for $1 million, how much are the Nets worth? Mike Ozanian of Forbes tried his hand at it this week and came up with a figure of $750 million. His calculation:
The Brooklyn Nets are now worth $750 million, 150% more than Bruce Ratner paid for the NBA team in 2004, and more than double what billionaire Mikhail Prokhorov paid in 2010.

At least that is what the math says when you gross up the $500,000 Jason Kidd is paying rapper Jay-Z for one-fifteenth of 1% of the team (the rapper's sliver of the Barclays Center is not included). In January, we valued the Nets, who are hemorrhaging money, at $530 million.

The deal would be the second most ever paid for an NBA team. Vivek Ranadive sold his interest in the Golden State Warriors at a grossed-up value of $800 million before so he could buy the Sacramento Kings.
Sounds about right ... assuming all the facts are correct? Close. Jay Z's share was not 1/15th of a percent or 0.067 percent, as the Times reported, but closer to 1/6th of a percent, specifically 0.1608 percent, as we were told by multiple sources.
A couple of points we want to make in looking at that $750 million number.
--Jay Z could have gotten more for the stake, according to one person with knowledge of the transaction. First of all, he had to offer part of his stake to the team's other stockholders, had to give them the right of first refusal. That limited him. Second, says the source, Jay Z needed to do the deal quickly because he had to sell the stake in order to be certified as an professional sports agent. It wasn't a distress sale, but he didn't have a lot of time. The source believes if he had put the stake on the open market and had the luxury of patience, a million dollars would have been the baseline.
--Earlier this year, ONEXIM, Prokhorov's investment vehicle, valued the team at around $750 million, according to a Russian magazine interview with Irina Pavlova. But that was before Ranadive sold his stake in the Warriors, putting Golden State at $800 million. In July, Prokhorov said his investment, $223 million in cash plus assumption of some Nets debt, had increased "fivefold." That would mean $1.1 billion for the team and arena. Does anyone think the Warriors are worth more than the Nets, who play in the biggest market in the world?
--They are still spending money in public and not-so-public ways. The addition of new assistant coaches and scouts is a public expression of their desire to spend on basketball operations. On the less public side. Norman Oder, critic and chronicler of Atlantic Yards, reported this week that public filings of Forest City Enterprises indicate that ONEXIM helped Bruce Ratner's parent company cover losses the Nets incurred in the second quarter. And it's not over. The mysterious training facility won't be built for free. It's a smart move to keep investing ... and good for the fans.
Bottom line: we think the valuation is probably closer to a billion than it is to $750 million. By the way, Ozanian also put the Nets owner at No. 4 on the list of richest sports owners this week, behind Paul Allen and two international financiers. Forbes estimates Prokhorov's wealth at $13.5 billion. When Dmitry Razumov was asked in April if that was correct, he said he didn't disagree, putting the number at between $13- and $15 billion.
A new business
The Nets will be investing the rehabilitation of Nassau Coliseum, through the Nassau Events Center partnership, the Bruce Ratner partnership that won the bid for the $229 million renovation, which in turn frees the Islanders to play in Brooklyn, making Barclays Center more profitable. That we knew.
What we didn't know is that the Nets ownership has recently become involved in the rehabilitation of another big sports facility ... in Moscow. OPIN, a subsidiary of ONEXIM, is renovating the Edward Steltsov Stadium as part of a real estate development, much like the Nassau Coliseum.
OPIN is run by Dmitry Razumov, Prokhorov's No. 2 and Billy King's Moscow conduit. It should come as no surprise that the Russians' experience with Barclays Center is giving them confidence in a new business of rehabbing sports facilities. It's how they operate. It's also another area of competition with Madison Square Garden and the Dolans, who lost on the Nassau job but are already rehabbing the Forum in Inglewood, CA.
In other words, this whole Nets thing isn't a hobby.
Three pictures
Three images on the internet struck us this week.
First there was Reggie Evans beardless. Made him look like a rook!
There was Deron Williams looking like he was sleeping on the subway.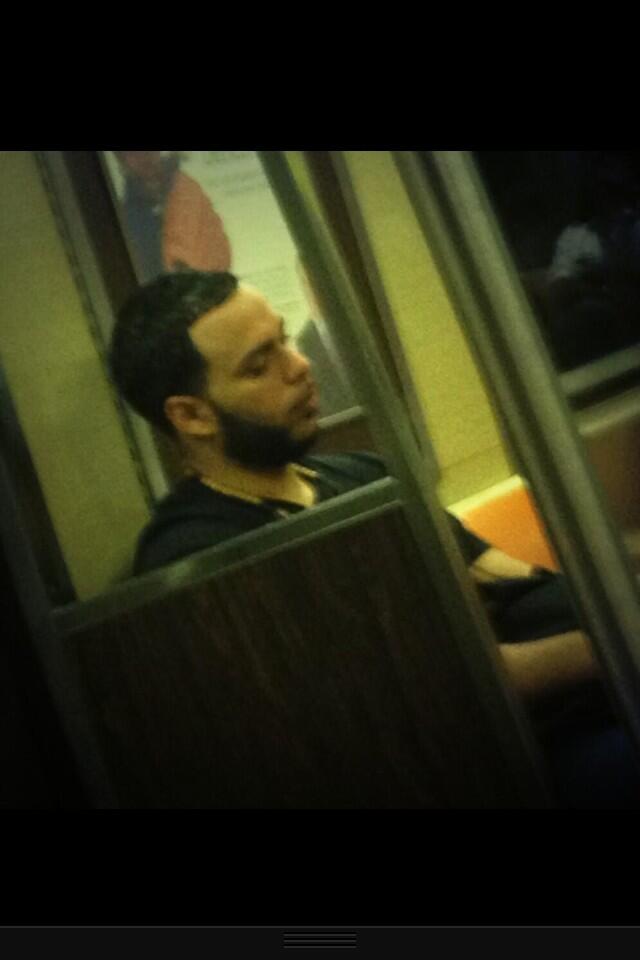 Finally, there was aspiring fashionista, Mason Plumlee, who has become quite the New Yorker, this week thoroughly enjoying Fashion Week.
Love those shoes ... and socks, rook. I'm sure D-Will can find a matching handbag. He's good like that.
Final Note
Congratulations to Calder Hynes of the Nets PR staff who married Lisa Germak last weekend, a coupling the New York Times took notice of. We are told another member of the Nets family will soon be tying the knot. We're sworn to secrecy but his wedding notice will be written in Georgian.