Merry Christmas! It hasn't been a happy 2013-2014 season for the Brooklyn Nets, but they hope to turn their season around on the national TV stage. In their first game without Brook Lopez, Brooklyn got demolished at home against the Conference leading Pacers. After this contest, Brooklyn plays Milwaukee at home on Friday night before going on a three game trip that will put them in Indiana, San Antonio, and Oklahoma City. Nobody said this was gonna be easy.
If any team can relate to what the Brooklyn Nets are going through right now, it's the Chicago Bulls. Thought to be a Championship contender at the beginning of the year, injuries have screwed them over (again). Luol Deng has been dealing with an Achilles injury and might not be available for this matinee game. Rising star Jimmy Butler has been dealing with an ankle injury and might or might not be out of action for this one. Kirk Hinrich's bad back has led the team to bring in veteran D.J. Augustin. However, the real reason Chicago's title hopes have evaporated is the injury to Derrick Rose. The former MVP tore his meniscus in Portland in late November and will miss the rest of the season. Management is apparently beefing with Rose again, and it's hard not to side with Rose & his camp. Tomas Rios of Sports on Earth explains the problem with Chicago management:
While Reinsdorf has repeatedly said that he would be willing to pay the luxury tax for a "winner," this is in direct contradiction to the fact that the team's marquee free-agent signing in the Rose era was Carlos Boozer's five-year, $80 million albatross of a contract. That deal that has served mostly to hamper Taj Gibson's development. Gibson is posting better per-36 numbers than Boozer this season and is far better suited to the Bulls' style of play. More importantly, the Bulls were gifted a franchise player in Rose and have failed to acquire or develop a secondary scorer capable of complementing him. Reinsdorf demanding a "winner" as a condition to paying the luxury tax is simply a convenient PR device meant to distract from the fact that paying the luxury tax is now all but a precondition to winning a title. It's Reinsdorf's money to spend as he sees fit, but his choices have consequences. For example, a presumptive franchise player being leery about a bargain-basement rebuilding project.
It's been a struggle for the Bulls, but they still find themselves contending for a playoff spot because everyone past Miami and Indiana in the East sucks.
The season so far
Before we begin, here's some Christmas music. What's the story with these teams? Let's check the numbers:
| | | |
| --- | --- | --- |
| 2013-2014 | Brooklyn | Chicago |
| Record | 9-18 | 10-16 |
| Pace | 94.86 | 93.45 |
| Offensive Efficiency | 102.4 | 96.2 |
| Defensive Efficiency | 106.2 | 98.7 |
| Offensive Rebounding percentage | 23.1 | 28.5 |
| Turnover rate | 15.5 | 17.1 |
| Assist rate | 16.6 | 16.8 |
| Rebound rate | 48.4 | 51.9 |
| Free throw rate | 33.5 | 28.5 |
| Effective Field Goal percentage | 49.4 | 45.6 |
| Opponent Effective Field Goal percentage | 50.9 | 47.3 |
Paul Pierce is coming off a rough game. He got kicked out of Monday's game for clotheslining George Hill after going scoreless in his 15 minutes of play. He'd been playing well since his return from the hand injury, so I'd be surprised if he puts up another clunker. A suspension might take place in the future, but for now he's in the game. After playing well as he returned from injury, Deron Williams has been in a mini slump the past two games. It's a national TV game, so look for Williams to be up for this contest and ready to put on a show for the folks unwrapping their Christmas presents.
One thing that's remained the same throughout the year for the Nets has been porous defense. They've gotten "better" compared to earlier in the year, but they're still allowing around 106 points per 100 possessions. The three point defense has been especially porous, allowing teams to hit on close to 40 percent from deep. Outside of Mike Dunleavy and maybe D.J. Augustin, the Bulls are one of the worst three point shooting teams in the league. However, a team being really bad offensively hasn't stopped them from lighting the Nets up.
As you would expect, the Bulls offense has not done well. They find themselves in the bottom of the Association offensively, ranking near the bottom in offensive efficiency and effective field goal percentage. Without Rose, they have struggled to finish at the rim. They get about 29 shots a game inside the restricted area, but are only shooting 55.3 percent, good for second worst in the league. Carlos Boozer's decline hasn't helped the Bulls offense. Although he's shooting 60 percent inside the restricted area, the majority of his attempts have been jumpers, and he's only shooting 38.6 percent in the midrange area. Butler and Deng are the team's best offensive players, but are hobbled so look for Boozer to see more touches than usual.
One thing that remains consistent with the Bulls is their defense. They're top five in defensive efficiency, opponent's effective field goal percentage and opponent free throw rate. When we spoke about the Pacers defense on Monday, we mentioned where shots are taken as a key factor in their defensive success. This concept is key to Chicago's continued success as well. Teams are only getting 25 attempts a game inside the restricted area and are only shooting 57 percent, both marks being in the top five. Their success also comes into play on the perimeter. They lead the league in opponent midrange shots per game, goading teams in 28 attempts a night and holding them to 37.2 percent, both near the top of the league.
Player to watch:
Joakim Noah
Noah is all by himself once again. With everyone injured, Noah has had to be the Bulls' best player. His numbers are more than respectable for a low usage Center, averaging 10.6 points, 9.9 rebounds, and 3.3 assists per game. He's having the worst shooting season of his career, but that could be the result of Noah dealing with a knee contusion and thigh bruise throughout the year.
Those injuries could be why the Bulls have been so bad defensively with him on the court. Chicago is allowing 103.1 points per 100 possessions with Noah in the game, 12 (!!!) points worse than when he is out of the game. He's doing a good job defending the rim when he's in the game, allowing 45 percent efficiency when he's defending. As someone who hasn't seen the Bulls play that often, maybe the lineups he are in are the cause of the team's struggles with him on the court? The Bulls' worst defensive lineups with Noah in the game feature Boozer, Dunleavy & Hinrich, two poor defenders and an injured, gritty dude.
Noah has the clear advantage over the Nets big men in this matchup. The first game back at the Center position pitted Kevin Garnett against Roy Hibbert and Noah is no pushover. Noah has the quickness edge over Garnett and will probably punish him and Andray Blatche on the glass. With the continued struggles of Garnett and the history of chippiness between these two, look for Noah to dominate.
Oh yeah! The Christmas Jerseys too!
The Nets and Bulls will also be sporting their Christmas jerseys today. Logos, but no numbers on the front and short sleeves. Plumlee modeled it Christmas morning.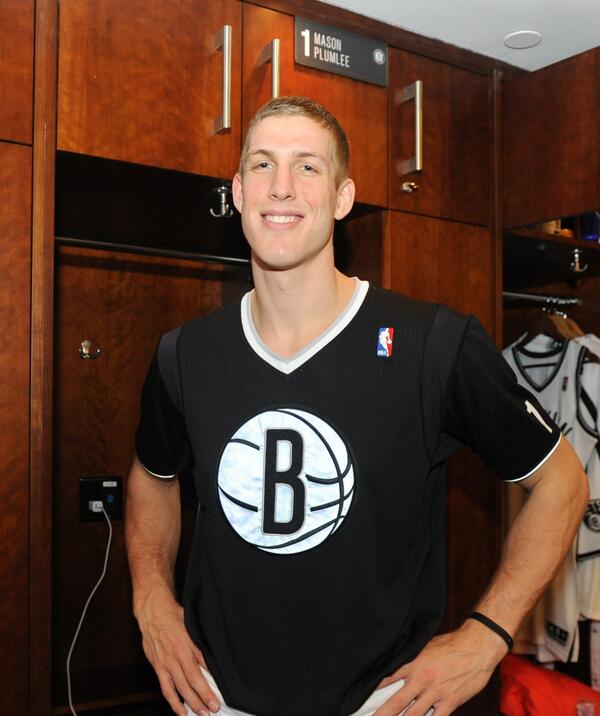 From the Vault
Since it's Christmas, head on back to 1990 and watch Michael Jordan in action against the Pistons on Christmas.
More reading: Blog a Bull