Note: Read Dennis' answers to Steve's questions here: Questionable Blogger, NetsDaily
1) The Los Angeles Clippers currently sit in first place in the Pacific Division and we knew they'd be good offensively, but would Doc Rivers and his penchant for strong defensive play sink in? It looks like it's really happening. How different is this team from last year's 56-win team as far as defensive effort?
The problem with trying to answer this question is that the Clippers have essentially been two different teams this season, neither one bearing much resemblance to the other. Through the first 14 games, they were an offensive juggernaut, but a defensive sieve. For the last nine games it's been the almost complete opposite -- their defensive efficiency numbers are top two in the league, but the offense has sputtered. If they ever put it all together, watch out.
I guess the good news is that shooting slumps happen (and man are the Clippers in one right now) but they don't last forever. The most optimistic explanation for the schizo performance (and probably the most reasonable) is that the team went into a slump just about the time they were really grokking Rivers' defensive schemes, so the defense got better, but the offense got worse. And of course it didn't help that J.J. Redick got injured, as he's an important cog in their offensive machinery, especially his movement off the ball. So continuing on that optimistic train of thought, when the shots start falling (especially when Redick returns) the offense will be humming again, and defense doesn't go into slumps. Certainly Blake Griffin and DeAndre Jordan are more focused, more dedicated defenders this season than last season, and it makes a difference.
2) Keeping on the subject of defense, how do you feel DeAndre Jordan is doing in this regard? I believe Doc Rivers wanted him to become the Defensive Player of the Year and he's certainly a contender. Can he usurp the other top defensive centers such as

Dwight Howard

and a healthy duo of

Tyson Chandler

and

Marc Gasol

?
Clips Nation
My personal feeling is that he's only a contender in so far as most of the voters for DPOY don't really know good defense from a hole in the ground. DeAndre is fifth in blocked shots and second in rebounding, which are numbers that usually get people's attention. (
Marcus Camby
and others have ridden those stats to the DPOY award certainly.) But DJ still has a lot to learn on the defensive end. He's getting better, but he still goes after pump fakes a little too readily, fouls too frequently, and misses rotation. Again -- he's getting better, and it's all about focus which is improving steadily. But he's no Tyson Chandler yet. Of course, Tyson Chandler wasn't Tyson Chandler until he'd been in the league about a decade -- bigs can take time to develop, and there's a lot of just plain experience that goes into being a great defender. Just ask
Kevin Garnett
.
3) The Clips recently signed Stephen Jackson, a known hothead of sorts. He'll be joining Matt Barnes, another player known to get emotional and doing/saying things he probably shouldn't have. How volatile can this duo get in the locker room? Is this pairing actually a good thing?
Well, if it's not a good thing, then Jackson will be gone. The Clippers suffered a sudden spate of injuries to their wing players (Redick is out until at least late January and Barnes and rookie Reggie Bullock are both out for at least another week and probably more like two) and they needed some emergency depth. Given the situation, Jackson is a great pick up, and he's on a non-guaranteed contract -- so basically, he's got a one month probationary period to try to make the team.
The Clippers have a more serious long-term need in the front court, and they're almost certainly going to have to add a big at some point (hence the Odom question below). They no longer have a roster spot, so they'll have to waive someone to add anyone else, and the only non-guaranteed contract is Jackson. So as of now, he's completely temporary -- when Barnes and/or Bullock get back, he's expendable.
Having said that, a perimeter defense and toughness and an edge are some things this team could use more of -- so long as the crazy can be kept to a minimum. Chris Paul is generally considered among the best on-court leaders in the NBA, and Doc Rivers is a players coach who commands a great deal of respect. There aren't many places where Jackson would work, but this might be one of them, if only because the combination of Paul and Rivers has at least an outside chance of keeping him on the straight and narrow. But if he strays from the path before contracts become guaranteed on January 10, he's gone.

4) There are strong rumors that the Clippers would likely be Lamar Odom's team of choice, but would he be worth the risk considering the baggage of Kardashian infection, alleged drug use and just being another year older and out of tip-top basketball shape?
Obviously the Clippers have shown great interest in Lamar, going so far as meeting with him last month for a couple of hours. Equally obviously, the Clippers have very little front court depth, where Antawn Jamison is by far their most productive option off the bench -- and that's just sad. So Lamar -- who was easily the best front court defender for the Clippers last season and put up career best rebounding numbers as well -- is an easy, "I've got a brand new pair of roller skates you've got a brand new key" sort of option.
But I've been told in no uncertain terms that the Clippers will vet the crap out of the situation. They will not sign him unless they are as convinced as they reasonably can be that he is clean and focused and ready. The conditioning part is a bit tricky -- even in the best of circumstances, Odom was never a guy who reported to camp in great shape -- he has always played himself into shape. But the Clippers are looking for a solution to a problem they'll have in April, May and June -- if they're convinced Lamar is serious (and sober), then he can use two or three months of the regular season to get into shape.

5) What are three to five other things that Brooklyn Nets should know and give us a final score!
Let the Clippers shoot. Aside from a stretch where they made nine straight in the second half in Memphis, the Clippers are making about 1 in 5 three pointers on this road trip -- and they're attempting a ton. It's been brutal.

Jamal Crawford

hit two big ones in the fourth quarter in Boston last night, so maybe he's breaking out.
J.J. Redick is more important than anyone ever knew. J.J.'s tireless work off the ball somehow makes everything else in the Clippers' offense work. They get the defense moving, the ball moves, and everything just flows better. The team has been stuck in the mud since Redick went out of the lineup. Some of that is an adjustment period, so hopefully it will get better, but it's been a pretty stark difference.
DeAndre Jordan caught a pass from Chris Paul last night in Boston and jammed the ball -- squarely between the rim and the backboard. It was the first lob-wedgie in NBA history. It's a new wrinkle in the Clippers offense, so watch out.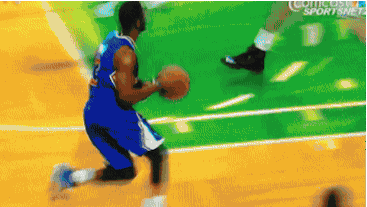 Man, I keep waiting for the Clippers to bust out of their slump, but it just won't happen. So I think it's going to be relatively low-scoring. 89-86 Clippers.
DV's Prediction: Los Angeles Clippers 92, Brooklyn Nets 96
What do you think the final score will be? Let us know below in the comments!