Brook Lopez has been the cornerstone of the Nets organization since he was drafted with the 10th pick in the 2008 NBA draft. Lopez was big prospect measuring in at 6'11.25" w/o shoes, 7'0.5" w shoes and 256 lbs. His 7'5.5" wingspan and 9'5" standing reach are exceptional by any standard. He also has a high skill level to go along with his size. Able to score inside with a number of post moves or shoot jump shots consistently from the perimeter, Lopez is the premier scoring big man in the NBA.
Lopez is not without faults. He lacks foot speed and agility which hurts him on defense and rebounding. He has gotten progressively worse at rebounding in his time as a Net. Lopez's rebounding rate as a rookie was 15.8, in his 2nd year it fell to 13.5 and in his 3rd year it fell even lower to 10.
Another concern about Lopez is his health. Up until last year he was the Cal Ripken of centers in the NBA never missing a game. He broke his foot in the preseason however and when he came back he suffered another lower leg injury with a severe ankle sprain on the same leg as his broken foot. These types of injuries have ended or disrupted many NBA careers such as Yao Ming and Zydrunas Ilgauskas.
With the Nets moving to Brooklyn they have a decision to make on Lopez. Will he be able to lead the Nets to their 1st NBA championship? Let's take an in depth look at how he fares against the other elite NBA centers he will likely have to go through.
Brook Lopez vs. Tyson Chandler
The first step in the Nets journey to a championship is to win the battle of New York. The Knicks surprised many when they landed Tyson Chandler last offseason. Chandler went on to become the defensive player of the year in the NBA. How well has Lopez done in 7 games versus Chandler?
Lopez:
19.6 Pts on 55.7% FG, 5 FTA
8 Rebounds
2.15 Blocks
Chandler:
8.3 Pts on 44.4% FG, 3.43 FTA
8 Rebounds
1.14 Blocks
Winner: Lopez by a landslide.
The scoring differential isn't surprising since Chandler is a secondary scoring option for his team but Lopez has had his way with Chandler, 19.7 Pts on 55.7% FG. The more surprising numbers were on blocks and rebounds. You would expect Chandler to dominate both but the rebounds were even at 8 a game and Lopez averaged a full block more than Chandler. The battle of NY goes to the Nets.
Brook Lopez vs. Dwight Howard
We took a look at the current DPOY let's take a look at the former. Dwight Howards is the unquestioned top center in the NBA. How well has Lopez done in 10 career games vs. Dwight?
Lopez:
13.1 Pts on 43.1% FG, 3.2 FTA
6.3 Rebounds
1.7 Blocks
Howard:
20.7 Pts on 62.1% FG, 11.7 FTA
14.6 Rebounds
2.7 Blocks
Winner: No surprise here, it's Superman
Dwight dominated Lopez in their head to head meetings with physical play as seen in his decisive advantage on rebounds, 14.6 to 6.3, and free throw attempts, 11.7 to 3.2. Lopez just isn't strong enough yet to compete with Howard.
Brook Lopez vs. Andrew Bynum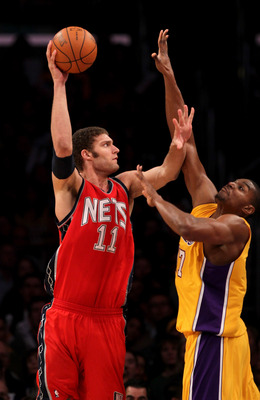 Lopez didn't fare well against the consensus number 1 center. How does he fair against the consensus number 2 center. Bynum has the pedigree of a champion having played and won in multiple NBA finals. Due to his injury history, Bynum and Lopez have only faced off 4 times. Let's see how well Lopez has done in 4 career games vs. Bynum.
Lopez:
24 Pts on 50.8% FG, 9 FTA
9.75 Rebounds
1.5 Blocks
Bynum:
7.25 Pts on 45.5% FG, 3.5 FTA
4.75 Rebounds
2 Blocks
Winner: Lopez utterly destroys Bynum in their heads up matchup.
Lopez manhandles Bynum on the boards with a 5 rebound advantage and gets to the line frequently. He also outscores Bynum by 16.75 Pts. Bynum is no match versus Lopez. NONE
Brook Lopez vs. Roy Hibbert
Roy Hibbert had a coming out party this year on the Pacers. He made his 1st all-star team and came up big for Indiana in the playoffs. Lopez and Hibbert both were drafted in 2008 and are compared to each other often. Both are restricted free agents and one has to wonder if the Nets are better off going after Hibbert. Let's see how Lopez has done against Hibbert in 10 career games.
Lopez:
17 Pts on 45.2% FG, 5 FTA
6.6 Rebounds
1.5 Blocks
Hibbert:
13 Pts on 58.3% FG, 2.7 FTA
5.1 Rebounds
2.4 Blocks
Winner: Lopez wins via split decision.
Hibbert and Lopez are evenly matched. Lopez outscored Hibbert but did so less efficiently, 45.2% to 58.3%. He did however go to the line more frequently, 5 FTA to 2.7 FTA, essentially making the scoring a draw. Where Lopez outdoes Hibbert surprisingly is on the boards, 6.6 to 5.1. Hibbert's advantage on blocks is not enough to get the win.
Lopez vs. Marc Gasol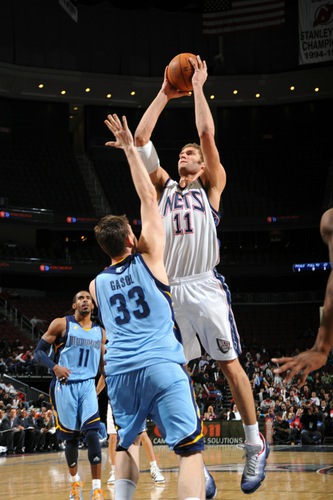 Another center making his 1st all-star appearance this year is Marc Gasol. Gasol was an afterthought in the 2007 draft getting drafted in the 2nd round by the Lakers. The league knows who he is now with his stellar play on a very strong Memphis team. Let's see how Lopez matched up in his 6 career games vs. Gasol.
Lopez:
17.3 Pts on 53.4% FG, 5.2 FTA
6.17 Rebounds
2.17 Blocks
Gasol:
15.17 Pts on 50.8% FG, 6 FTA
8.5 Rebounds
1.17 Blocks
Winner: Lopez.
Lopez has trouble with Gasol's girth evident by Gasol's rebound and FTA advantage. Lopez makes up for this strength difference with skill as evident by his 53.4% FG and block advantage.
Brook Lopez vs. Joakim Noah
If the Nets want to be contenders in the NBA they are going to have to overcome top level defenses like the Chicago Bulls. Noah is the lynchpin of the Bulls stingy defense with his length, agility and basketball IQ. How has Lopez matched up to Noah in their 9 games vs. each other?
Lopez:
17.3 Pts on 50.8% FG, 4.3 FTA
8.22 Rebounds
1.56 Blocks
Noah:
8.9 Pts on 55.4% FG, 2.4 FTA
8.44 Rebounds
2.44 Blocks
Winner: Lopez.
Much like Chandler, success versus Noah isn't measured in the point differential since Noah isn't a primary scorer. The reason Lopez gets the nod over Noah is that he is still able to score efficiently vs. a top defensive team. He also plays Noah evenly on the boards. Noah has the advantage on blocks but he needs to dominate Lopez on the boards also to make up for Lopez's 8.44 scoring advantage.
Brook Lopez vs. Andrew Bogut
Andrew Bogut has been dealing with the injury bug for the last few years. When healthy he is a very good all around center who can dominate on offense and defense. Golden State is unlikely to be a contender in the near future but a healthy Bogut can change those expectations. Let's see how Lopez has fared in his 5 career games vs. Andrew Bogut.
Lopez:
16.4 Pts on 50% FG, 4.6 FTA
5.4 Rebounds
1 Block
Bogut:
18.2 Pts on 52.4% FG, 2.2 FTA
10 Rebounds
3.4 Blocks
Winner: Bogut with a 1st round knockout.
Bogut beats Lopez handily in scoring, rebounding and block shots. It's not even close.
Conclusion
Lopez fares well versus most of the top centers in the NBA. The only 2 who give him trouble are Howard and Bogut. It is fair to say that after reviewing Lopez's head to head matchups vs. his peers that he is a top 5 center in the NBA. It's easy to forget how good Lopez really is when you focus on his rebounding numbers. When you take a deeper look he doesn't get outrebounded as much as you would think. As the Nets improve the roster and Lopez grows as a player it's easy to see he is worth making a part of a championship team.