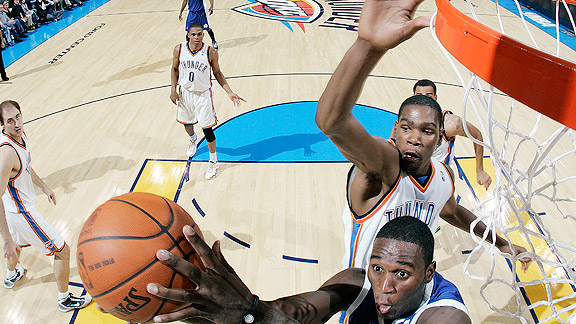 Shawne Williams took a chance, leaving Memphis after one year. His basketball skills thrilled those who scouted him in high school and his numbers at Pre-Draft Camp were solid if not eye-popping. His maturity...not so much.
He measured 6′8.75″ in sneakers and 227 pounds–about the same as what he weighs now. His wingspan measured 7′3″ and his vertical leap 32″, a combination that should allow him to play bigger than he is--and compensate for his lanky frame. Physically, he didn't participate in the bench press and finished tied for 57th overall in athleticism with the notably unathletic Adam Morrison.
Besides the similarity in name and age, Shawne Williams like ex-Net Sean was drafted 17th in 2006 by Indiana. And like Sean, he's had a number of off-court issues. Most prominently, he was arrested in September 2007 on a marijuana charge and for driving without a license. His passenger, a friend from his hometown of Memphis, was busted for carrying a gun that was reported stolen. Then, six months later came the hammer for him in Larry Bird's eyes: another pal was busted on a fugitive warrant for murder as he left Williams' home. After being traded to Dallas in 2008, he had run-ins with the Mavs' coaching staff.
Now, almost 24 years old, how much potential does he have, understanding that his career hangs in the balance? Both Kevin Pelton of Basketball Prospectus and John Hollinger of ESPN have doubts he can make it in the NBA.
Kevin Pelton, Basketball Prospectus:
Acquired from Indiana for Eddie Jones and a pair of future second-round picks, Shawne Williams got a brief look as part of the rotation but was quickly buried. His last action of the season come on Jan. 4. Three years into his career, we're still not sue what Williams can offer an NBA team. He got his most extensive action in 2007-08 with the with the Pacers, doing some positive things and showing the ability to create shots, but Indiana was willing to give up on the whole package--which includes a history of off-court issues--awfully quickly. If Williams doesn't demonstrate improvement this season, Europe will figure prominently in his immediate future.
John Hollinger, ESPN:
2008-09 season: Williams hardly played after an offseason trade to Dallas, seeing only 170 minutes and not playing at all after Jan. 4 due to a foot problem. His brief snippets of play weren't encouraging: He shot 28.6 percent from the floor and 1-of-17 on 3-pointers while contributing only two assists to the cause. Not two assists per game … two assists, period.

Scouting report: A tweener with an instinct for getting up shots on the court and getting in trouble off of it, Williams' willingness to take 3s hasn't been matched by accuracy; though he has a smooth stroke, he's at 30.6 percent for his career. Since he's a string bean who rarely ventures inside unless he's finishing on the break, he's limited in his ability to impact a game. He can make long 2s with a hand in his face but has a very poor free-throw rate and isn't a good ball handler.

Defensively, it's more of the same. Williams is an intriguing talent, but at 6-foot-9, 225 pounds, it's not clear whom he can guard. Small forwards challenge his lateral quickness, and he doesn't play with the intensity to make up for it, while power forwards shoved him aside underneath.

2009-10 outlook: Williams has an expiring contract, and despite his impressive talent it will be an expiring career if he doesn't shape up. If his foot is healed and he stays out of trouble, he should get his share of opportunities. That's because the Mavs aren't overloaded with quality wing depth, and Williams is one of the few players they can tap to create his own shot. Whether he can make anything out of his chances, however, is very much in question.
It's hard to figure out whether the Nets are really going to give Williams a legitimate chance or simply keep him on the roster as a trade asset down the road, dumping him after the deadline. You can't trade a player you've waived.
Looking at his best year, 2007-08, there are indications he can play, but his off-court troubles and limited time make it hard to determine just how much he can develop.
As his NBA Hotzones data from that season show, he can hit the deep shot, using a rainbow delivery. He likes the right side of the court and straight on, not having much luck on the wings. Chris Douglas-Roberts, a teammate and classmate at Memphis says of him, "Skill-set wise, he'll be one of the best bigs on our roster. Excluding nobody" and defends his character, "My ex college teammate is NOT a bad guy/thug...Don't judge us on the people we grew up or hang with."
With so little to go on--he hasn't played a second in more than a year, and little inside information on how the Nets see him, it's hard to tell what Shawne Williams can bring now, almost halfway through the season. A lot will be known Tuesday when he shows up for his physical. Is he in decent shape...needing only time to get into basketball shape...or has he let himself go and prone to injury as he gets on the court again. And most important of all, does he realize this is is, his last chance.