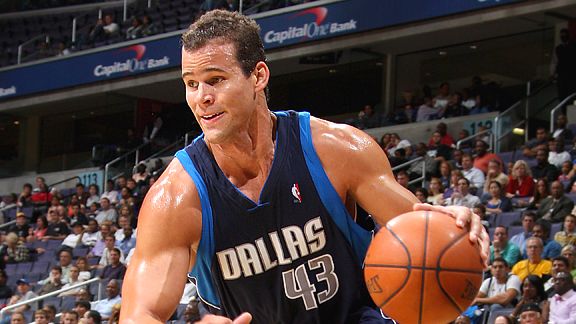 The numbers on Kris Humphries are encouraging, if not overwhelming. If ever there was a player who fit the description of "fallen angel", it's him.
Entering the NBA at age 19 after a single season at Minnesota, Humphries thrilled the numbers geeks at the Pre-Draft Camp in 2004. He was the camp's fourth best athlete, behind only Nate Robinson, Kirk Snyder, and Tony Allen, all three inches or more shorter.
He measured 6'9.5" in sneakers and 238 pounds--not much less than what he weighs now. His wingspan measured 7'0.5" and his vertical leap a healthy 36". Physically, he finished first in the bench press, the strongest man in camp--and that included Dwight Howard.
But his professional career never measured up to his #14 selection. At Utah, he and Jerry Sloan didn't get along, lasting two years before being sent to Toronto...from backing up Carlos Boozer to backing up Chris Bosh. Then, on to Dallas in the Shawn Marion trade, where he backed up Dirk Nowitzki.
Now almost 25 years old, how much potential does he have, understanding that he's likely to get more minutes than he's ever had before? Both Kevin Pelton of Basketball Prospectus and John Hollinger of ESPN have some, well, measured analysis.
Kevin Pelton, Basketball Prospectus:
While the Mavericks have changed their strategy, they ended up with a decent second draft candidate in Kris Humphries as a throw-in from Toronto. It seems like Humphries has been around forever, but he won't turn 25 until February, midway through his sixth season. After two disastrous seasons campaigns in Utah--let's just say he and Jerry Sloan don't exchange cards each holiday season--Humphries made strides in his development during four years in Toronto, though he could never parlay them into extended minutes. On a crowded Dallas roster, that task will be even more difficult.

The well-chiseled Humphries supposedly once went by the nickname, "Bowflex", and he uses that strength on the glass. However, Humphries is still looking for a position defensively. He gives up height to power forwards and isn't quick enough to keep up with good small forwards. On offense, Humphries is better at creating shots than he is at knocking them down. It would help if his improvement in free throw percentage stuck, but it's more likely a product of a broken leg cutting his 2008-09 campaign short after 29 games.
John Hollinger, ESPN
2008-09 season: A tough rebounder who can score, Humphries was chronically underutilized in Toronto. He played only 265 minutes last season, and while part of that was due to a broken leg that ended his season in mid-January, he wasn't getting much burn before that incident.

Why he didn't play more for a team so desperate for frontcourt muscle remains a mystery. For the second year in a row, his PER beat the league average, and he averaged better than 16 points and 10 boards per 40 minutes. Somehow the Raptors didn't see a need for that production.

Humphries has two major weaknesses. First, he's a selfish offensive player who forces shots. Even though he can score, he too often flings quick jumpers and breaks plays, especially when he catches in the high post area. He shoots the ball like it's contagious, flicking it from in front of his face within nanoseconds of picking up his dribble. The result is usually a low liner into the front rim. He can finish and draw fouls around the basket and is an impressive offensive rebounder, but he doesn't earn brownie points with the coaches when he lets it rip off the dribble from 15. Also, he needs to improve his foul shooting (58.5 percent career).

The other weakness is his defense. Humphries has a strong build but is undersized for a 4 at 6-foot-8, and his effort is inconsistent. He keeps gambling by trying to steal post entry passes instead of playing solid D behind his man, and with his quickness he should be a better pick-and-roll defender.

2009-10 outlook: Humphries was traded to Dallas as part of the Shawn Marion deal, but don't be surprised if he moves again. With several players ahead of him in the queue for minutes and a $3.2 million expiring contract, the Mavs don't seem to have much need for his services.

It would be a shame if he spent the year on the pine, however, because he has proved he can produce when given the opportunities. He'll be a good value pickup for a team somewhere down the line, but that might be in another year.
So far, this season, Humphries has progressed, but he's only averaging 12.6 minutes per game, a number likely to increase as he backs up both Yi Jianlian and Brook Lopez. He will no doubt take minutes away from Josh Boone before some other team takes Boone away.
As his NBA Hotzones data shows, he has a better mid-range game than Boone, particularly when playing on the right side of the court. He does not have the range of either of the guys he'll be backing up.
A deep numbers dive also indicates that when given minutes, he can perform. As Marc Ginnochio of Nets Are Scorching wrote after reviewing his individual data at 82games.com:
Humphries doesn't get a lot of minutes in Dallas, but he's fairly efficient when he plays. He's currently averaging 17.2 points and 10.6 rebounds per 40 minutes, good for a Player Efficiency Rating of 15.25, which is slightly above average. According to his 82games profile, he takes about 54 percent of his shots close to the rim or at the rim, good for a 54 percent effective field goal percentage. His eFG is about 37 percent on his jump shots.
Humphries has had his problems with focus or as one Dallas writer described it: "the occasional mental lapse that drew the ire of the coaching staff." Still, he's nine years younger than Najera and saves the team more than $2 million in cap space over the next two years. In today's Nets world, it doesn't get better than that.