Yi Jianlian has to be the Net player most pleased with the coaching change.
Kiki Vandeweghe, of course, has been Yi's biggest booster in the Nets' organization. It was Vandeweghe who before the 2007 Draft worked him out and pronounced on ESPN that he saw similarities between the Chinese seven footer and the German seven footer he nurtured in Dallas. And it was Vandeweghe who traded Richard Jefferson for him a year later.
But that's only part of it. The arrival of Del Harris is likely to mean even more to Yi.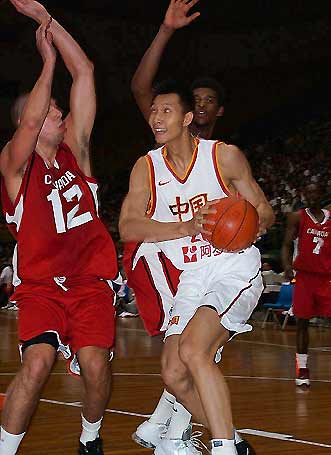 The two have had a personal relationship since 2004 when, as head coach of Team China Harris gave Yi his first chance, inserting him into the starting lineup for the Athens Olympics. Yi was 16 and it was a big deal in China. While the US culture values youth, that's not the case in China's traditionalist culture. For Yi, it was "a trial by fire". Harris saw an NBA future for Yi back then.
"Definitely, in 2004, he had the potential [to play in the NBA]," Harris said a few years later. "He's a great kid with a great attitude. I don't expect him to be a real physical guy, but he'll learn NBA physicality. He'll learn because he's smart."
Yi justified Harris' faith in him, playing a significant role in China's upset of then world champion Serbia in the first round.
In fact, Rod Thorn hinted Tuesday that Harris' relationship with Yi was a big factor in bringing the veteran 73-year-old coach back to the NBA.
"Del was with him during his formative years, developed a relationship with him, and Del thinks very strongly that he is going to be a very good NBA player," Thorn told ESPN's Chris Sheridan, adding that Yi is happy with the move. "Yi's confidence is up, and players play better under those circumstances, so I think it'll be a real benefit for him to play with Del."
Yi has had good things to say about Harris' role about Harris' role in his and Team China's development.
"He (Harris) coached me on the National Team in 2004. He's a pretty good coach with very good experience. He really likes young players," said Yi on Thursday. "Last season, he was assistant coach with Chicago and they played pretty good. He worked with the offense there. It's pretty good for us. He's pretty good for us too. He knows us really well, knows all the players."
Harris' help to Yi didn't end in 2004 either. Remember who was the Bucks' GM in 2007 when they surprised the NBA (and Yi) by taking him sixth overall in the Draft: Larry Harris, Del's son. The younger Harris hadn't seen Yi play before drafting him, but relied instead on his father.
"He (Del Harris) thought Yi was a tremendous kid, really bright," Larry Harris said in 2007 after the draft. "He had him at a young age, and at that time (in 2004) thought he could be a small forward."
Indeed, Del Harris played Yi at the small forward spot in the 2004 Olympics, where he appeared in all seven games for the eighth-place Chinese team, averaging 2.7 points and 3.3 rebounds. He was the youngest Olympic basketball player in Athens.
A review of Harris' comments starting in 2004 shows what kind of faith he has in Yi, faith that continues today.
"There's nobody that he's exactly alike," Harris said just before the Olympics. "He's got a similar athleticism as Stromile Swift, and he has some shot blocking ability somewhat like Marcus Camby. He's got a thin body like both of them, but he's got a big frame so that he could actually put on weight.
"There's probably nobody his size that runs as well as he does in this league," Harris added, "and he jumps great with good timing. He's a good rebounder, he's a good passer; he's very smart. He's got a good work ethic, and he's a good person. He has all the ingredients it takes to become a tremendous player in the NBA."
In 2007, Harris said he believed Yi is "the most athletic 7-footer in the league."
"This fellow has a great touch," Harris added. "He's got a really good 17-, 18-foot shot. He runs really well, can jump and has good timing. His shot-blocking is excellent."
"He's long and runs like a deer and he isn't close to being a finished product."
Of course, a lot of people have been wowed by Yi's potential, only to be disappointed. It's not unfair to say that Harris' son lost his job because, among other things, Yi didn't live up to his potential in Milwaukee. (On the other hand, Del Harris got his last job, as Vinny Del Negro's assistant, after impressing the Bulls GM, John Paxson, on a plane ride back from China where the two had scouted Yi.)
Vandeweghe was never happy with Lawrence Frank's treatment of Yi. It was, according to a Nets' insider, one of Vandeweghe's big beefs with Frank. Now, once again with the addition of Harris, the Nets show they are still enamored of Yi's potential, still hopeful that he will fulfill their—and Harris'--faith in him.
Yi says he and Vandeweghe have worked out a lot together..."showing me all the good players' moves like Dirk (Nowitzki), like how to play, post move, footwork. Show me how to use it."
Now, the two coaches who worked so well with Nowitzki in Dallas will try again with Yi. Timing couldn't be better.