This is an expanded and updated version of an item in one of last year's NetsDaily Off-Season Reports.
There's been a lot written about how the Nets' fortunes took a calamitous turn in the summer of 2004 when Kenyon Martin was traded to Denver for three first round picks. You can argue, however, that not signing KMart to a max contract that summer was a blessing in disguise. He never returned to form and he's missed nearly two whole seasons' worth of games since.
What's hard not to argue is that the Nets had a chance to recover very nicely from the summer of 2004 a year later but blew it. It's an instructive tale about how things go wrong...and how the two main villians in story of the Nets demise--Lawrence Frank and Bruce Ratner--should not the only ones taking blame. There's a lot to go around.
Between the summers of 2004 and 2005, Vince Carter had joined the Nets, and season tickets were selling fast as fans anticipated the success of the "Big Three". The Nets had cash, their own MLE, a high draft pick and a big trade exception, bigger than the MLE in fact. There was a lot of optimism the Nets could turn it around and become legitimate championship contenders again.
It all came to naught, zero, nada, nothing, zip, zilch. The 2005 off-season was an utter disaster, one filled with blown draft picks; botched free agent signings, medical mysteries, and a single meaningless trade. The Nets never fully recovered. While they did win 49 games that next season, what happened that summer ended whatever dreams they may have had about a return to greatness.
Let us review the ugliness…from the perspective of that time and place:
–The Draft. The Nets have two picks, at #15 and #43. The belief is that the Nets will take a big man to help them recover from the loss of Martin or a swingman to back up the (historically) injury-prone Richard Jefferson and Carter. The thinking is that either Sean May or Rashad McCants, both of NCAA champion North Carolina, would be ideal choices. May, it has been rumored, was the top choice.
The night before the draft, the Nets' brain trust decides Antoine Wright, a consensus lottery pick, could slide to #15. A minority opinion favors Gerald Green. Danny Granger, who showed up at his NBA workouts with a swollen knee, is in the picture, as well as Francisco Garcia. But Granger's knee scares some people. Ultimately, the brain trust is right…in one regard: three teams surprise everyone by taking big men way ahead of where they had been projected. Charlie Villanueva of UConn, Andrew Bynum of Plainsboro and Fran Vasquez of Spain get picked at #7, #10 and #11. May goes at #13 and McCants at #14. Voila, Wright falls out of the lottery and is the choice. The rest, including Ed Stefanski's comparison of Wright to Alan Houston and Dick Vitale's comparison of him to Dwyane Wade (!!), is history…tragedy actually.
" align="left" hspace="6" vspace="6" />
As the second round dawns, the Nets see an opportunity. Monta Ellis, the Mississippi high schooler and the first player the team worked out that spring, falls out of the first round. Stefanski tries to find a willing trade partner to move up to take him. No luck. They should have tried harder. At #40, Ellis goes to the Warriors and Mile Ilic, described by Stefanski as a "more athletic" version of Nenad Krstic, goes to the Nets at #43. In doing so, the Nets pass on Louis Williams, Andray Blatche, Ryan Gomes, Amir Johnson and Marcin Gortat. Ilic stays in Serbia for another year. Can you say bust?
–Free Agency. Four days after the draft, Lawrence Frank, Nets' head coach and close personal friend of Shareef Abdur-Rahim, flies to Atlanta and at the stroke of midnight, knocks on the front door of the the Olympic gold medalist and All-Star, carrying an offer from the Nets. This was the Nets' plan all along: use the remaining $5+ million TE from the Kerry Kittles deal with the Clippers to secure a high-scoring big man. Oh what genius.
Frank had been an assistant coach in Vancouver when SAR played there and served as a groomsman in his wedding. Is there a better salesman? Sweet! Frank then departs Atlanta for Orlando where he meets with Keyon Dooling and his family. He's the Nets' top choice as a Jason Kidd back-up. Dooling tells the Nets they are his first choice. Such interest. (After saying goodbye to the Doolings, Frank stays in Orlando and watches the Nets' summer league team play, featuring Wright and 2004 second round pick, Christian Drejer. Wright is mediocre, a sign of future disappointment. Frank describes Wright as a "scorer" rather than a "shooter". Drejer is a disaster, doesn't even get a camp invite.)
The team also began negotiations with agents for two other free agent power forwards: Stromile Swift and Donyell Marshall.
It goes down hill from there.
The first problem is Portland GM John Nash. Thorn needs to work a sign-and-trade for SAR using the TE. The plan is for the Nets to give Abdur-Rahim a six-year $38 million deal. The Nets would then trade a second round pick in 2006 to Portland. Sounds easy. No, says Nash, the Nets former GM. The Blazers decide to hold out for the rights to Ilic or the Nets' first round draft choice in 2006. The Nets initially refuse the demand.
For nearly two weeks, negotiations continue. SAR wants to play so badly for the Nets he agrees to accept a smaller deal based on the MLE if a sign-and-trade can't be worked out. The difference: nearly $10 million. In that case, Portland gets nothing. Ultimately, the Nets want SAR so badly they relent to Nash's demand, agreeing on July 21 to give Portland their own first round pick in 2006, with multiple protections.
Swift signs a four-year deal with Houston for $20 million and Marshall signs a four year deal with Cleveland for about $16 million. So there are no options beyond SAR. Still, the Nets feel great. Abdur-Rahim feels great. It's all coming together. No, it's not.
The next day, Dooling commits to a four-year, $11 million deal with the Magic, significantly more than what the Nets were offering. Thorn begins looking at other potential Kidd backups: longtime Net-killer Milt Palacio, Abdur-Rahim's good friend Damon Stoudamire, and Jeff McInnis, a talented player with a reputation for being selfish or worse, a chemistry killer.
A week later, on July 28, McInnis agrees to sign with the Nets. He gets a two-year $7 million deal. It is the single worst free agent signing in the Thorn era. Nothing compares. The 6-foot-4, UNC product had indeed averaged 12.8 points, 5.1 assists and 2.1 rebounds in 76 games for the Cavs in 2004-05, but Paul Silas benched him at the end of the season even as the team struggled and then failed to make the playoffs. He lives up to his reputation in New Jersey. The Nets have now committed a big part of their MLE to McInnis, limiting their options further.
Then, things REALLY go south.
On August 1, the first day a deal can be made, the Nets make it official. They have signed Abdur-Rahim and McInnis, as long as the two pass their physicals. Uh-oh.
Abdur-Rahim agrees to buy a house in a gated Saddle River community where Kidd, Carter and their (then) wives live. A press conference is scheduled for Thursday, August 4. The two newest Nets and a recently re-signed Cliff Robinson will appear. YES plans to cover it live.
Chad Ford of ESPN goes so far as to say the Nets could be among the league's top five in 2005-06 and adds, "I'm not sure anyone's had a better summer than Rod Thorn". Thorn himself jokes that he was able to trade Martin and Kittles for Carter and Abdur-Rahim.
Suddenly, during the YES broadcast of a Yankee game on Wednesday night, a curious banner crawls across the bottom of the screen. The press conference has been postponed. No reason is given.
Thursday, everything falls apart. Scar tissue discovered in Abdur-Rahim's right knee is holding up the signing and trade, report the beat writers. The condition has never bothered him before, he says, but the Nets want to get another opinion or two before signing off on a six-year contract. Like Thorn, Abdur-Rahim remains hopeful that everything will work out.
The problem is hardly simple: At age 16, Abdur-Rahim had knee surgery. In the 13 intervening years, scar tissue built up. The Nets' orthopedist warns the team that SAR's knee might not last six years, the length of the guaranteed contract.
The Nets get a second and then a third opinion on the right knee. Doctors think SAR may already have arthritis in the knee. Although Thorn won't discuss specifics of the problem, the new assessments do not made him any more optimistic the deal will get done.
By Saturday night, Abdur-Rahim is angry, telling the New York Post, "I don't want to be a Net". On Monday, August 8, both sides issue statements that tempers have cooled and optimism reigns.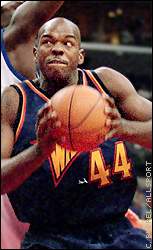 Finally, the next day, with the Nets' trade exception hours away from expiring, the team decides it's too risky. "We were anticipating adding Shareef to our roster," says Thorn. "However, during the course of his normal physical examination, some questions arose that gave us cause for concern. After consulting with several noted specialists, we feel that rescinding the trade is our best course of action. We will now look in other directions for ways to improve our team for the upcoming season."
The other "ways" turn into a trade with the Sixers. With six hours left before the TE turns into a frog, the Nets acquire Marc Jackson and $3 million in cash for the trade exception and the right to swap second round picks in the 2006 draft. A good deal on short notice, but a major disappointment.
"We are pleased to add Marc to our roster," said Thorn. "He is a solid frontcourt player who will add length, toughness and depth to our frontline rotation." He didn't.
Both Aaron Goodwin, SAR's agent and Thorn confirm a second offer had been put on the table. It included four guaranteed seasons, but that the last two years would be guaranteed if Abdur-Rahim showed "no significant problems" through the first three years of the contract.
"And if he played two years without a problem, the fifth year would be guaranteed," Thorn said. "Basically, he only had to show up."
The rest of free agency becomes comic…or tragic, depending on your view point. Robert "Tractor" Traylor was signed, pending his physical. An echocardiogram, used by only a few NBA teams, reveals Traylor has a dangerously enlarged aorta and has a 40% per cent chance of dying on the court if he plays again. The Nets rescind their offer and by November, Traylor undergoes open heart surgery. It could be argued that saving Traylor's life is the biggest accomplishment of the off-season.
Hamstrung by their decision to give McInnis so much of the MLE, the Nets can't sign others they pursue, including Lindsey Hunter, DeSagana Diop, Jason Kapono and Aaron McKie. Instead, they wind up with Linton Johnson III, Scott Padgett, Lamond Murray, McInnis and Jackson to go along with holdovers Robinson, Jacque Vaughn and Zoran Planinic plus the rookie Wright. Only Robinson and Vaughn play significant roles the next season.
"This is the best bench we have had since I have been associated with the Nets," Stefanski crows in a conference call with beat writers in September. Nope…but then again, the standard is low, and remains so.
–Injuries. On June 24, Jason Collins undergoes what is supposed to be routine surgery on both knees. Prior to that, Collins while not a great offensive player has career averages of 6 ppg and 5 rpg. He never reaches those numbers again.
In retrospect, some of the moves that looked bad at the time turned out to be very, very smart. Abdur-Rahim's knee didn't even last three years. He needed surgery in 2007 and missed the entire next season, then retired. Traylor, it turns out, was helping his cousin launder drug money that summer and he barely avoided jail after pleading guilty and agreeing to cooperate. Not re-signing Brian Scalabrine did hurt some fans' feelings, but no one in their right mind, other than Danny Ainge, would have paid him $15 million.
A couple of the moves were also recycled to get the team some value. Jackson and Johnson were traded to New Orleans at the deadline for Boki Nachbar and McInnis was ultimately sent to Charlotte for Bernard Robinson. Not having to trade Portland the first round pick in the SAR sign-and-trade helped too. The pick turned into Josh Boone. And hey, look, Swift and Diop eventually did make it on to the Nets' roster. Right?
The 2005-06 Nets did win 49 games (second most in team history) and beat the Pacers in the First Round before losing in the Conference Semis to the eventual champion Miami Heat.
Still, neither Wright nor Ilic lived up to their hype and were essentially wasted picks. Imagine if they had been able to take Ellis or even Louis Williams or Andray Blatche in the second round…no, don't, it's too painful.
McInnis' contract not only hamstrung them in the 2005-06 season, it hamstrung them in 2006-07. Unable to move him, the Nets found themselves over the luxury tax threshold and unable to sign free agents. They wanted, for example, to take a chance on James "Flight" White but like now, didn't have a roster position.
-Bottom Line. The Nets blew the entire summer and a last chance for another trip to the Finals, coming away with nothing. Hope, as it turned out, was not a strategy.