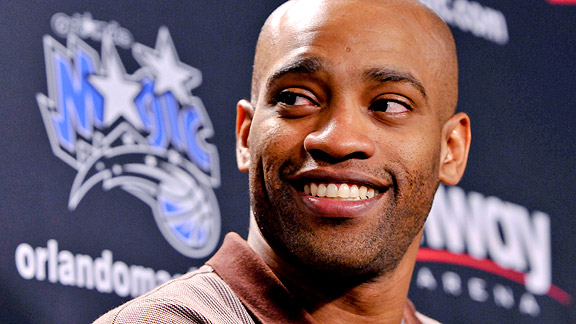 In light of what we know (and it's by no means comprehensive), the Magic deal was probably the best deal the Nets were offered for Vince Carter...and the $37.64 million he has left on his contract. The Magic needed Carter after Hedo Turkoglu rejected an informal offer the weekend before the draft. It didn't hurt that VC is from Daytona Beach, a 30-minute drive from Orlando, making him a local ticket draw.
Here's what we know about some of the other proposed deals…not all of which has been published previously. Not being in the room, we can't vouch for its accuracy, just that they were reported.
–Carter and Josh Boone to Houston for Tracy McGrady at the deadline. When McGrady heard the rumors, he immediately informed the media (not the team) that he was about to shut it down for the season. Talks ended.
–Carter to San Antonio for Fabricio Oberto, Bruce Bowen, George Hill and Roger Mason Jr. at the deadline. Tim Duncan, like McGrady, went public to kill this deal. A close second to the ultimate Magic deal. However, the Oberto and Bowen contracts could have been—and were--dumped this summer with small guarantees That would have given the Nets quicker salary relief.
–Carter and two first round picks to Portland for Raef LaFrentz and Channing Frye at the deadline. A salary dump of the first magnitude. The Nets wouldn't even have had to pay all of LaFrentz's salary. Eighty percent of it was paid by insurance after he suffered a season-ending injury last season. Frye's contract expired at season's end. The Blazers' owner, Paul Allen, reportedly vetoed it, thinking Carter's contract was too much.
–Carter to Cleveland for Ben Wallace, Sasha Pavlovic and J.J. Hickson in June. A little more complicated since no one knew whether Wallace would retire, as he suggested earlier in June, or how much of a buyout he would accept. He eventually accepted $10 million out of $14 million. Pavlovic had a small guarantee and was bought out. The Nets liked Hickson before last year's draft but he's not as developed as Lee.
--Carter and the Nets' first round pick to San Antonio for Bowen, Oberto, Mason and Kurt Thomas (instead of Hill) just before the Draft. A revision of the deadline deal Duncan vetoed. The Spurs balked when the Nets asked for "additional considerations" and turned their attention to Richard Jefferson.
–Carter to Orlando for Rafer Alston, Tony Battie and J.J. Redick in June. The original deal offered by the Magic, which was followed by another permutation: VC and Eduardo Najera for Alston, Battie and Mickael Pietrus. Thorn wanted Courtney Lee. The Magic countered with a demand that Ryan Anderson be included. In addition to the three players, the Nets also wound up with two trade exceptions: one for $3.763 million, the other for $1.226 million. Done deal.
Of course, there were deals offered before last season, like the one the Cavs put on the table on Draft Night 2008, just after the Jefferson deal: VC for Wally Szczerbiak. Those were different economic times and the Nets rejected it. It's not known if it was offered again.
A note on how much Carter is owed. You may have seen three figures: $33.64 million over the next two years, $52.57 million over the next three or $37.64 million guaranteed. The third figure is the most accurate. Carter's contract indeed has three years left at $52.57 million, but only $37.64 million is guaranteed. The third year is partially guaranteed for $4,000,000 if he's waived before June 30, 2011.