Yi Jianlian is going to be big. Really big.
Everyone is counting on it: the National Basketball Association, the Chinese Basketball Association, his agent Dan Fagen, and even the William Morris Agency. Of course, the Nets have a stake in his success as well.
It can be argued that no player in the 2007 draft was as big as Yi (pronounced "Ee", as in "Big E"). At a listed 7'0", he is as tall as anyone else in that draft, but that wasn't the issue. Others may be more talented, like Greg Oden and Kevin Durant, but none can affect the league's long-term future as much.
How much? On the morning of the draft--morning China time--tens of millions of Chinese fans were sitting in front of their television screens, watching the live feed of the NBA Draft on CCTV state television. Then for hours and days later, they debated it on the league's Chinese language Web sites.
David Yang, the NBA's Vice President for Business Development and Marketing Partnerships is a Beijing native. As the draft approached last year, he predicted the addition of Yi would be a big plus for a league already comfortably ensconced in the Chinese consciousness.
"Yi is a very prominent Chinese basketball player, who will have a positive impact on Chinese basketball as a sport and given the population, this will be a huge boost for the NBA," said Yang just before the draft, then adding in a bit of understatement, "I think it is very positive from the league's perspective."
It's not as if the league needed a lot more help in China. With a weekly TV audience of 32 million people, and 300 million Chinese playing basketball, Yi's arrival in the NBA was just the latest manifestation of a wildly successful NBA marketing campaign.
The real questions revolve around how good of an NBA player he is and will be and how much his commitments to marketing and Chinese basketball will affect his future. On the former, his rookie year provided flashes of real promise but on the latter, there were muted complaints that China and his handlers may never let him go.
Yi became the fourth player from China to enter the NBA, but only the second with any marquee value. The most successful, 7-foot-6-inch Yao Ming, was a no-brainer for NBA teams. He had excelled on the international stage prior to joining the Rockets in 2002. His height and his skill set as a traditional NBA center made him a very rare commodity. Once the Rockets won the draft lottery that year and were guaranteed the first overall pick in the draft, Yao was the easy choice.
Yi, on the other hand, was and is more of a mystery, more intriguing. He doesn't have Yao's talent or height, was only 19 and was seen as a possible pick anywhere from #3 by the Atlanta Hawks to #13 by the New Orleans Hornets, the wide range mainly because of uncertainty at how successful Team Yi would be at engineering his future.
Then, the Milwaukee Bucks screwed up everything by taking him at #6. Not since Stevie Francis flashed a meaningful scowl on being picked by the Vancouver Grizzlies in 1999 has there been an unhappier draft choice. He even cancelled his appearance at the traditional post-draft press conference. It was precisely the scenario Yi and his handlers wanted to avoid.
Fegan, who has a reputation as a skilled manipulator of NBA general managers, had limited Yi's exposure. He hadn't allowed him to work out against other NBA prospects, only in controlled settings. He hadn't allowed him to workout beyond the Home Depot Center in suburban Los Angeles — even forbidding him from playing pick-up games around Southern California. And he had (mostly) limited Yi's workouts to teams from cities with large Chinese and Asian populations. Milwaukee, Memphis and Minnesota, all of which have high picks, couldn't get in the door.
The Chinese government supposedly wanted it that way. The decision to let Yi join the NBA wasn't an easy one. He was the biggest star in the CBA by far, its meal ticket.
Ma Jian, a former Chinese basketball star himself with the Shanghai Sharks, and the first Chinese to significantly break into the American basketball scene, told NBC News just before the draft that he understood why the CBA would be so particular.
"Of course, definitely, CBA and Yi's agents would prefer that he play in cities with large Chinese population," Ma Jian said. "It will benefit both CBA and Yi, it will help promotion. And it will guarantee him better restaurants and perhaps better looking Chinese girl friend."
The Chinese government also saw an opportunity to give him a lot of experience before this summer's Olympics, which are not coincidentally in Beijing. China wants to medal at home in basketball.
"This is a very good opportunity for him to improve his skill level and when he returns to his home country, it will have a positive impact for him and his team," said Yang.
Yi's take was a little different but he knows he has a debt to pay.
"It's because I want to, and my country supports me in my decision so I have to thank my fellow countrymen for that," he said politely.
Yi is more than just basketball, however. Fegan and others have been building Yi as a global brand, one that will capitalize on his personality and energy, his work ethic and dedication...and yes, his good looks. The government knows Yi Jianlian is more than just an athlete. He is the New Chinese Man, smart, confident, handsome, a multi-cultural youth icon.
William Morris, the legendary Hollywood agency, molded his image as it would a Hollywood star, getting him "A list" invitations to the premieres of "Shrek" and "Pirates of the Caribbean" while working out in LA. He looked "A list", dressed in sunglasses and a sleek leather jacket at the "Pirates" opening. There was also a very public tour of Disneyland, sponsored by Disney. He has agents, press people, trainers, translators. While other young players have posses, Yi has an entourage that would be the envy of Vincent Chase.
Grace Chen, managing director of William Morris in China, said at the time that Yi was fully involved in the process of making him a household name in both countries.
"It's important to have an understanding of the cultures, where the brand is coming from and where it is going," she told NBC. "Yi is thoughtful of and sensitive to this. He gives us a lot to work with: he has a great personality, he is relatable, and he has an open-minded approach," said Chen, who added that Yi is likely to be as attractive to U.S. companies seeking an entry to China as he will be to Chinese companies looking to make moves in the other direction. That has to be music to Brett Yormark's ears.
"Yi will travel not just within the U.S. but between China and the U.S., which is fantastic because it keeps him relevant and accessible in the various markets," she added.
Yi knows about marketing. He has been starring in Nike commercials since he was signed by the sneaker company five years ago at age 15. In China, he is a teen idol, regularly attracting mobs of screaming young girls. As Yang noted, "With Yi in the NBA, we will have further established an affinity of Chinese youth to the NBA."
In a commercial for a milk company, Yi is the center of a romantic triangle featuring China's most famous young soap opera star. In his first commercial for Nike, he takes over a staid practice in a rundown gym, suddenly flying above the rim for thunderous dunks as the music switches from soothing Chinese string instrumental to blaring hip-hop.
The message was clear: Yi is the hip-hop Yao. Yao on the other hand is best known for an Apple commercial where he and Verne "Mini-me" Troyer, compare laptops.
Yi himself is by turns shy and very, very confident. He spends time both on the court and in intense English classes, which seem to be working. In an interview with NBC before the draft, he was asked if he is a mystery, as virtually every sports writer has described him. He seemed genuinely taken aback.
"I don't think I'm a mystery. I don't know why they would think that, because I train here (in America)? Maybe I came to U.S. and stay in L.A., practice here and I've never been
to other city so some people cannot (see) me," he said.
He was a bit less taken aback when asked if he is a star.
"I wouldn't use the word star. In America, there are a lot of very big basketball fans and they have an interest in me, and are supporting me," he said.
But asked which NBA player he is most like, Yi leaves no doubt of his opinion of himself. "I don't think there is one," he said.
So how is he as a basketball player? Before the draft, scouts who had watched him develop over the years, watched him in youth camps, in international tournaments, or in the Chinese Basketball Association had come away raving, but not everyone.
Jonathan Givony, who runs DraftExpress.com, a respected draft Web site, said in a podcast just before the 2007 draft that there were doubters.
"There seems to be a lot of confusion as to what kind of prospect he really is," Givony said back then. "One team we spoke to…drafting in the mid- to late- teens told us they wouldn't even take him if he was on the board for them. There is a big discrepancy on what people think his stock is right now."
The then-general manager of a team drafting in the mid- to late-teens — the Nets at # 17 — expressed his concerns last year on WFAN.
"The Chinese kid," said Ed Stefanski, referring to Yi. "I went over to see him play. He's a real interesting character but how do you equate the talent level in China, which isn't very good, to playing against the best players in the world."
Stefanski even questioned Yi's listed height.
"You take two inches off whatever they list them in the program, so he's probably 6-feet-10-inches," but he is a four man (power forward) not a center. He can really run the floor. And if you give him one or two steps, his head is literally at the rim. Now, inside against half-court, grind-it-out basketball, I think he is going to have to learn how to do that, but he is quite an athlete."
The man who ultimately succeeded Stefanski when he moved on to Philadelphia wasn't so reserved. Kiki Vandeweghe, then working for ESPN, compared him to Dirk Nowitzki…high praise, particularly from the man who worked with Nowitzki in Dallas and is generally credited with taking him from a draft bust to an NBA star.
Vandeweghe told USA Today he was "blown away" by the Yi workouts he saw.
"What I didn't realize was how athletic he is," Vandeweghe said. "I've worked out big players for more than 20 years, and I compare Yi very favorably to when I first" worked out with Dirk Nowitzki."
Watching him work out, you can see all of Stefanski's troubling concern and Vandeweghe's gushing praise. Yi is quick, fundamentally sound and likes to play above the rim. Yi easily pounds the ball inside for a quick turnaround jumper or baby hook shot (both left and right handed).
His three-point shooting wasn't that consistent but he was very reliable from the top of the key. He is high energy, fast paced but pretty quiet.
The whole package is what drove the Bucks to take him. And after two months of often acrimonius negotiations and a visit to Hong Kong by the Bucks owner, U.S. Senator Herb Kohl, Yi finally signed to much fanfare in Milwaukee. He professed excitement. The Bucks didn't mention his holdout. Face was saved.
His rookie season was up-and-down, with a fast start, a peak in late December, then a slow fall-off that had people questioning his drive and his mental conditioning. He had never played so many games before…and he was living in Milwaukee in a completely new culture, where the entire Chinese-American population of the city could have been dropped into the Bradley Center, with enough room left over for another 15,000 people. His anxiety was evident to his teammates.
One high point came early...the NBA scheduler makers made sure of that. On November 9, an audience of 200 million Chinese tuned in to see Yi battle with Yao and the Rockets, the other half of China's Twin Towers. It was the largest audience for a basketball game ever, a spectacle the NBA couldn't get enough of. It was, as more than one person noted, China's Super Bowl...with an audience twice the size of the NFL's Super Bowl. Yao scored 28 and the Rockets won the game. Yi scored 19.
David Thorpe, an ESPN columnist who makes his living training NBA players in Chicago is a big fan of Yi's. A timeline of his comments throughout the season reveals a lot about how things went:
In a November 15 article headlined, "Best Rookie? Yi Has Edge On Favored Durant", Thorpe wrote: "Yi's play has been both surprising and inspiring. Surprising in that no one has a bigger cultural change to adjust to, yet Yi looks like he's been an NBA pro for years. He has a clear plan for success and has executed that plan with discipline and talent.
"What I love about Yi's offensive game is his versatility and mental acuity. In a series of plays, we will see him post up and back his guy down, face up in the midpost, slash to an opening inside, go glass, and play off the ball beautifully. And he does all of it with passion and purpose."
December 05, 2007
"Some of Yi's recent struggles can be attributed to his poor performance as a finisher around the rim. An astounding 39 percent of his "close" shots are blocked. (Al Horford has 25 percent of his close shots blocked.)"
December 12, 2007
"I enjoy watching Yi play because he often makes the right read when it comes to half-court offense -- when to post, when to slip screens, when to pop out higher as a pressure-release man. He is not putting up the numbers he did early on, but based on his mental game, he will get back in gear and be a force in this league."
December 23, 2007
"Yi's career-high 29 points, most coming from long 2-pointers, showed that he is the other Dirk-like talent from this draft, combining excellent size with great shooting skills and movement. Adding 10 rebounds, three assists, three steals and a blocked shot is the stuff P.J. Carlesimo hopes to get from KD."
January 09, 2008
"Another New Year's wall hitter is Yi, who just completed his worst three-game scoring streak of the season. Yi scored just 15 points total on 6-for-26 shooting. But I like the fact that he still grabbed 20 rebounds, blocked three shots and made three steals in those games. To get through the wall, rookies must continue fighting and work on making plays each possession."
January 14, 2008
"So far, January is proving to be Yi's worst month in the NBA, in terms of raw production. But I still love what I see from him on most nights from a talent perspective. His level of agility and coordination is just so impressive to watch. And he knows how to play. He could see a jump in production next season, similar to Rudy Gay's jump from 10.8 ppg as a rookie to over 19 ppg this season."
January 23, 2008
"Yi continues to surprise me with his overall talent level, because as good as Al Horford is, Yi would win a lot of arguments over who would have been a better pick for the Hawks. Yi's got more upside as a scorer, and probably projects better as a shot-blocker, too. Having to adjust to the American game and culture (unlike Al) suggests that when he figures it out, he'll stand alongside Durant as one of the top two rookies of this class".
January 30, 2008
"Yi's production has dropped a fair amount in 2008, and from what I can see, it's because he's struggling to 'make two plays.' The effort is there, but the mental concentration needed to make the second play isn't. Case in point: His five offensive rebounds against Golden State on Sunday resulted in zero points."
February 06, 2008
"When a player is struggling like Yi is, I like to see him make some changes to his game. With a pure shooter like Yi, it might just require positioning himself a foot or two closer to the rim as he moves in space within the flow of the offense. Add in a few more post-ups to help get easy buckets and free throws. And then, dunk it every time he gets a chance. No more soft layup attempts. Yi does not look as tired physically as he does mentally."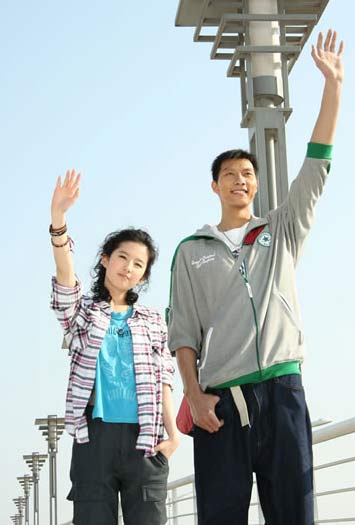 Injuries mounted, first his wrist, then his knee, as did fatigue and after 66 games, Milwaukee shut him down for the season on April 2. His monthly scoring averages went from 12.1 ppg in December to 7.4 in January, 6.4 in February, 5.6 in March, and 4.0 in the two April games he played. Thorpe, who once rated Yi the top rookie, dropped him to #19 by season's end. In a way, Yi and Sean Williams' seasons mirrored each other's.
Still, he was rookie of the month for December when he averaged 12.1 ppg, 6.6 rpg, shooting 50.3% overall, made two of his four three's, and shot 81% from the line…not bad for a guy on team filled with gunners. He proved he could play in the NBA.
Why did the Bucks dump him? They needed a scoring small forward and Richard Jefferson is one of the NBA's best. The Bucks also realized that even if Yi did develop, the chances of him staying in Milwaukee were virtually non-existent. The Bucks got what they wanted from him, a marquee player, a connection to China, some national and international recognition, which is critical for a small market team. But the new regime in Milwaukee had soured on the whole Yi experience.
Why did the Nets want him? "We needed to increase our size, get a big time athlete like Yi," said Rod Thorn. "We like him a lot. We like his athleticism, his length, his age…We think he can be real good in the future. We want to look at things from a future standpoint."
They also wanted rid of Richard Jefferson and wanted cap space for the 2010 free agent circus surrounding Lebron James. Yi, in fact, wasn't the first international big man they had gone after using RJ as bait. They had made inquiries Toronto's Andrea Bargnani.
Thorn confirmed that it was Vandeweghe who had negotiated the deal "over the course of several days" before the draft. It will probably be Vandeweghe as well who will take primary responsibility for turning Yi into what he had predicted the sweet-shooting seven-footer could be.
So now, Yi and his handlers have what they wanted from the beginning...a presence in a major U.S. market and one with a large Chinese poplulation, in essence, a launching pad for their global brand.
Even before the trade, Yi professed a new maturity...although some public post-trade celebrating with his girlfriend, pop star Shi Yanfei, got him in trouble.
"It's all about confidence," he said after scoring 26 points in China's 110-92 win over Lithuania on the Monday before the trade. "I want to control the basket and score as many as I can when I step onto the court. I don't want to just take shots around the 3-point arc. I want to be the big man that opponents are afraid of."
He has also commited in new ways to his homeland. After the Sichuan earthquake, he and Yao put together appeals for aid, in English, Mandarin and Cantonese. He knows that with a month to go before the Olympics and Yao still unable to step onto a court, the leadership role in Beijing will fall to him.
The Nets, of course, understand what he brings to their table as well...how much of a "big man" he can be for their purposes.
"It opens up a truly new fan base for us," Yormark told the New York Times. "Yi is going to give us the opportunity to be relevant to Asian-American fans in ways we haven't been before."
And there are a lot of them in New York, a quarter million native born Chinese in Brooklyn alone, probably a million in the metropolitan area.
"We've talked to the Bucks and the Rockets so we can learn from their mistakes and, more often, replicate what they did," Yormark told the Times. "We jumped right on it."
You can be sure that Yormark will try to parlay Yi's visibility into season tickets, corporate suite sales, multi-million dollar corporate sponsorships.
Rod Thorn says simply, "we think he can be a very good player for us...his upside is way up."
It's certainly not hard imagining him as an All-Star either, riding in on a wave of votes from Chinese fans, just as Yao has been, as well as those living in the New York region. Last season, he wasn't even on the ballot and he finished fifth among East forwards last year without being on the ballot. If he's on the ballot next season, he's got a shot.
Yi could also prove a nice recruiting tool. NBA vets, and particularly their agents, know the value of playing with Yi. He could make some of them even richer than they already are, like the way Yao Ming helped make Shane Battier richer.
Battier was traded from small market Memphis to big market Houston two years ago, but more significantly for his visibility, he was suddenly the teammate of Yao Ming and being seen across China. It wasn't long before his agent, Jim Tanner of Williams & Connolly, saw an opportunity.
"The timing couldn't have been better," Tanner told NBC. "His shoe contract with Adidas had expired. We knew his trade would give him tremendous exposure there. PEAK, the big Chinese apparel company, wanted to sign an NBA star and expand their profile."
The result was a three-year, seven-figure deal and a signature clothing line, the Battier Line, all promoted by Battier—and an $8 million annual budget. Battier learned some Chinese, and flew off to the Far East to do commercials, make appearances and sign a lot of autographs. Asked if the new deal was more lucrative than the deal with Addidas, Tanner would only say yes.
The NBA is obviously a willing partner in all of this, too. There are some months, says commissioner David Stern, where revenues from China outstrip those from North America and a fact sheet circulated by the league practically oozes with numbers that translate into dollar signs: the billion viewers every year, the 51 TV stations that carry the games, up from 32 a year ago, the launch of a third Chinese language variant of NBA.com.
And the league is only too happy to let you know that its success in China is not dependent on Yao or Yi. Yao, in spite of his huge popularity, is not the most popular NBA player, at least measured by uniform jersey sales. He ranks No. 6. Kobe Bryant, Lebron James, Allen Iverson and others rank above him.
"NBA popularity is increasing rapidly. One single player isn't going to make a big difference. It will help...Yao has been a great ambassador to us," says Yang. "If Yi becomes an all star or reserve, we are not dependent on one player."
The night Yi was drafted, there were 30 Chinese media at Madison Square Garden. Two Chinese networks, CCTV, the national network and GTV, the Southern China network, took live feeds and that most important of all, official delegations from the China Basketball Association were on hand. Not long after, the NBA also set up something called "NBA China" which will foster links between the league and its Chinese counterpart. That could be a multi-billion dollar deal.
On August 10, when he goes up against Team USA at the Olympic basketball arena, the audience will be bigger, the stakes higher than on Draft Night. Watching will be the largest audience for a basketball game ever, one that will make the Yao vs. Yi games seem small. A nation's pride is on the line. He says it is "the most important thing in my career right now...I just want to do my best."
Then there is Nike, the sneaker company Yi represents. How important is he to Nike? At the opening of Nike's Lebron James Museum last October, Nike CEO Mark Parker said he was going to have more signature products for Chinese athletes, especially for Yi.
"I have seen some similarity between LeBron and Yi. I am sure we will have more designed product for Yi as well," Parker said.
It's not that Nike has ignored Yi. The week he was drafted, a new Nike commercial was unveiled in China, featuring Yi rising out of a basketball, like a dragon from an egg.
"You can join the professional league when you are 15," he says in a voiceover. "You can join the national team. You can become an MVP. But that's not enough. Because you can be the you that's making the next step forward."
Now, all he has to do is play ball.