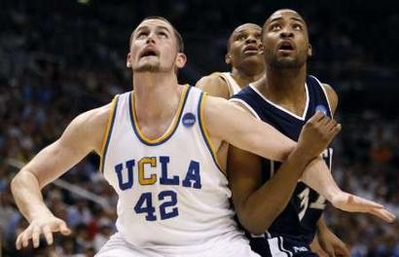 The Nets don't distribute the scouting schedules of Kiki Vandeweghe, scouting director Gregg Polinsky and international scout Rob Meurs, but there are often reports of where they've been.
So we've decided, with the lottery (May 20) and the Draft (June 26) not that far off, to chart what we can learn of their travels, where they've been and who they might have seen.
Sometimes it's easy. Vandeweghe wasn't scouting someone on the St. Peter's squad when he went to Lawrenceville to watch Rider play the Peacocks. He was obviously there to take a look at Jason Thompson, Rider's 6'10" prospect. Same holds true for his visit to the RAC in New Brunswick. He was there to scout Hasheem Thabeet, UConn's 7'3" center.
Most times, it's not. It's hard to tell who the Nets are looking at in a multi-team tournament or learn if they've suddenly become interested in a player who had not been on their list before. We've also added a few names of players not expected to come out til 2009. The Nets have been known to scout international players as young as 17.
All that said here's the first installment of our running list, which we expect to update as we learn more...or less.
February 27 (Vandeweghe) - Rutgers vs. UConn, New Brunswick, NJ - Hasheem Thabeet, UConn.
February 29 (Vandeweghe) - Rider vs. St. Peter's, Lawrenceville, NJ - Jason Thompson, Rider.
March 9 - 10 (Polinsky) - Sunbelt Conference Tournament, Mobile, AL - Courtney Lee, Western Kentucky.
March 12 - 15 (Vandeweghe) - Pac 10 Tournament, Los Angeles, CA. - Jerryd Bayless, Arizona; Brook Lopez, Stanford; OJ Mayo, USC; Kevin Love, UCLA; Darren Collison, UCLA; Chase Budinger, Arizona; Robin Lopez, Stanford; DeVon Hardin, Cal; Ryan Anderson, Cal; Kyle Weaver, Washington State; Russell Westbrook, UCLA; James Harden, Arizona State; Davon Jefferson, USC.
March 13 - 15 (Vandeweghe) - Big 12 Tournament, Kansas City, Mo. - Michael Beasley, Kansas State; Blake Griffin, Oklahoma; DeAndre Jordan, Texas A&M; DJ Augustin, Texas; Brandon Rush, Kansas; Darrell Arthur, Kansas; Bill Walker, Kansas State; Marcus Dove, Oklahoma State; Richard Roby, Colorado; Damion James, Texas.
March 19 - 25 (Vandeweghe) - Spain and Italy - Danilo Gallinari, Armani Jeans Milano; Victor Claver, Pamesa Valencia; Artem Zabelin, CSKA Moscow; Alexey Shved, CSKA Moscow; Anton Ponkrashov, Khimki; Ricky Rubio, DKV Joventut.
April 1 (Vandeweghe) - NIT Semifinals, New York - Kosta Koufos, Ohio State; Marreese Speights, Florida; Nick Calathes, Florida; Gary Forbes, UMass; Chris Lowe, UMass.
April 5 - 7 (Polinsky) - NCAA Final Four, San Antonio - Tyler Hansbrough, North Carolina; Derrick Rose, Memphis; Chris Douglas-Roberts, Memphis; Joey Dorsey, Memphis.
April 9 - 12 (Thorn and Vandeweghe) - Portsmouth Invitational Tournament, Portsmouth, VA.

May 1 - 3 (Vandeweghe) - Euroleague Final Four and Euroleague Nike International Junior Tournament, Madrid, Spain.