This is the second time the Nets didn't want Trenton Hassell.
Back in 2003, the Bulls dumped him at the end of the training camp, surprising a lot of people. The year before, he had played okay for Chicago, averaging 24 minutes a game over the entire 82-game schedule. He had only averaged a bit over four points a game, half what he had his rookie year, but his chief asset then as is it now was his defense.
He wanted to play in New Jersey. The Nets offered him a contract, but one that was only partially guaranteed. He wanted it fully guaranteed. Nets resisted. No deal. Off he went to Minnesota where he played in 81 games in the regular season and another 18 in the playoffs, again defending well and adding some offense to the Western Conference finalist Timberwolves.
Then, in February, after more machinations, the Mavs offered him in place of the recalcitrant Devean George. Nets resisted, not wanting to take on the $8.6 million Hassell is owed beyond this season. But the deal was too good to pass up and he became, finally, a Net.
Hassell heard about it on television during the All-Star break while home in Clarksville, Tennessee.
"I was surprised. I didn't know I was involved until I was watching the all-star game and a couple of my homeboys and family starting calling me, asking me. They told me to turn on the TV; I was surprised."
But not unhappy.
"It's a good opportunity for all the guys that came in the trade," he said, adding of Devin Harris, Desagana Diop and Mo Ager: "We're good friends, we're close and this is a chance for us to play and show that we can play a little bit.
Hassell had received little playing time in Avery Johnson's system in Dallas, then initially became the Nets' top perimeter defender, replacing Antoine Wright.
He went from averaging 2.1 points and 1.2 rebounds in 12.5 minutes with the Mavs to 5.7 points and 4.0 rebounds in 20 minutes with the Nets in his first week with the Nets. In his very first game, against the Bulls, he has four points, assists and rebounds and a key stop that permitted the Nets to go into overtime and secure the win.
But with Lawrence Frank experimenting with different linueps, Hassell's minutes dropped off. Boki Nachbar who brings more offensive punch and rebounding was in the lineup more often. Still, as he proved in the Toronto game just before season's end, Hassell can play some mean defense. Ask Sam Mitchell.
Dave Feschuk of the Toronto Star covered Mitchell's post-game frustration:
In the long, tortured minutes after the Raptors fell below .500 in New Jersey on Saturday night, Sam Mitchell, the Toronto coach, used the word "frustrated" five times, mixed in another F-word once, and engaged in a brief argument about, of all pressing matters, Trenton Hassell's height.

"He's 6-7," said the coach.

He's 6-5, said the program.

"He's my height," said Mitchell, who's 6-7.

Uh, not true. Hassell, the Nets backup, is like a lot of undersized NBA players. He is listed as a measurement, 6-foot-5, that's also an embellishment. Considering Hassell had spent key parts of the game thwarting Chris Bosh, the Toronto all-star who stands about 6-foot-10, you could understand the coach's sensitivity to the differential.
The 20 minutes Hassell spent hassling Bosh was the longest stretch he had played since March 2, when he had some quality time against Tim Duncan…to much less effect.
Defense has always been his forte. As he noted in his first interview with the Nets' Matt McQueeny, defense is what he brings to any team he plays for…along with the quality Mitchell was hinting at: "Just a little toughness, defense, energy. Get out there and just try to make things happen; that's about it."
It's pretty always been that way for him, starting in high school in Clarksville, Tennessee where he played Scottie Pippen to Clarksville's version of Michael Jordan, a decent player named Shawn Marion.
"We had a lot of points. We were okay defensively (laughs); we had a bunch of athletes. Half of us played football so we were all right defensively."
He played football? "Yeah, I played all four years in high school."
After Marion split for UNLV, Hassell stayed closer to home at Austin Peay, where he had a great career, averaging 19.8 points, 8.4 rebounds and 4.6 assists while shooting nearly 50% from the floor and 35% from beyond the arc.
It was good enough to get him drafted at the top of the second round in 2001 draft by the rebuilding Bulls. He quickly figured out defense was going to be his thing, more out of necessity. He had a pretty mentor.
"When I was a rookie (with the Chicago Bulls), we had a lot of scorers on the team and Ron Artest and people got hurt and I came in there and played defense," he explained to McQueeny. "I had Charles Oakley as my vet and Pete Myers and they told me that you have to master something else other than just scoring because everybody else can score in the league. And it was defense."
His rookie year proved a big success. He averaged 8.4 points and 3.3 rebounds, playing 2,237 minutes, mostly off the bench. He played more minutes than the Bulls two vaunted first round picks, Tyson Chandler and Eddy Curry combined. The Bulls were a disaster, though, winning only 21 games and their coach, Tim Floyd, was fired 25 games into the season.
His new coach, Bill Cartwright, pushed him hard, but there were tensions with Cartwright hinting Hassell wasn't taking the NBA all that seriously.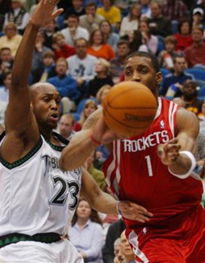 In fact, Hassell's second year proved disastrous. He regressed in every significant statistical category and Cartwright's confidence in him began to drop off. By year's end, he looked more and more like a typical second round pick. He averaged only 4.2 points on 36.7% shooting, hardly what you would want from a swing man, defensively oriented or not.
That summer, 2003, the Bulls signed the real Scottie Pippen to a career-closing free agent contract, further pushing Hassell down in the rotation. Cartwright hinted at his frustration with the now 24-year-old Hassell. When asked what Pippen could bring at his advanced age, Cartwright replied that he hoped Pippen would make an extra effort to show players such as Hassell "what it means to be a pro in this league."
By October, he was gone from the Bulls, unceremoniously waived by Cartwright.
Hassell says the shock therapy administered by Cartwright helped his career: "He helped me become the person I am today. I was young and he put up with me to a certain extent. And I learned from that mistake and he gave me an opportunity to play so I have to give my hat off to him."
And things worked out just fine in Minnesota, where he signed six days after being cut by the Bulls, just in time to play with Kevin Garnett. He quickly revived his career, again, by playing defense. The Wolves won 58 games with Hassell starting all but five regular season games at shooting guard. He averaged only five points per game, but there was enough offense elsewhere, with Kevin Garnett, Sam Cassell and Latrell Sprewell averaging 61 a game between them.
Garnett also taught him what it means to be a pro in this league, in Cartwright's words.
"Ticket – you know, Kevin Garnett – plays with a lot of passion. He practices, he gives 110 percent," he says now.
The Wolves won 58 regular season games and got to the Western Conference Finals, losing to the Lakers. In the 18-game playoff run, Hassell averaged nearly 8 points a game and shot better than 50% from the floor and from beyond the arc. It was his only playoff run. After a devastating Game 6 loss to LA, Hassell was still upbeat, "We'll rebound. . . . This gives us hope. We just got a taste of it, and we move on.''
In a season-ending report on the Wolves' roster, Steve Aschburner of the Minneapolis Star-Tribune had this glowing assessment: "Hassell was an outstanding pickup on the eve of the season, a defensive-minded shooting guard with more scoring potential than he gets credit for. With Wally Szczerbiak out much of the season and Latrell Sprewell too vital as a scorer to grind down defensively every night, Hassell got the thankless task of guarding dangerous opposing wing players."
Hassell's contributions paid off. On July 26, Hassell signed a 6-year, $26.1 million offer sheet with the Trail Blazers. Minnesota had 15 days to match the offer and on August 4 it did. He was now under contract with the Timberwolves. He is still playing under that contract.
Over the first three years of his deal, Hassell averaged 7.5 points and 2.9 rebounds, decent enough numbers, but his game didn't seem to progress much. His turnovers shot up. More importantly, the Wolves went into a three year tailspin. From 58 wins in 2004-05, they dropped to 44, then 33, then 32 last year. Time for some changes. Kevin Garnett went east on July 31 and Hassell went south…to Dallas a week later. Mark Cuban was not deterred by the three years remaining on his contract and sent the similar—in talent and contract--Greg Bruckner north.
Hassell understood why he was traded. "I was shocked, but happy. Minnesota is going in a youth direction, and I'm kind of an older guy, so I'm trying to win now... I'm just one of those guys that can help a team defensively with energy."
There was even some talk of Hassell starting. After all, in six seasons, he had started 360 of 476 games. He'd never averaged fewer than 24 minutes a game, and two years before, he averaged 32.6 minutes with the Wolves, which was a career high. Hassell laughed when asked if he thought Johnson would run any plays for him. "I doubt it," he said. "They've got too many scorers."
The laughing stopped when the season began. Avery Johnson played him sparingly as the Mavs' backcourt logjam sent Hassell to the end of the bench. In his first 14 games this year, he scored four points or less in 12 of them. After some burn in January, it was back to the bench. In the entire month of January, he scored 27 points.
He was ready to move on. Initially, the Nets had no interest, but after George decided to exercise his option and refuse the trade, a substitute had to be found. Problem for the Nets was that George has an expiring contract and Hassell is owed $8.6 million after this year. After six long days of negotiations, the Nets gave in.
Hassell moved on, proclaimed his happiness at getting a new start but admitted it wasn't easy to be traded twice in four months.
"The difficult part is your family," he told McQueeny. "You have to choose whether you want to keep moving your family, you have to get comfortable with the system, a new scene, new teammates that you're not familiar with. So it's kind of difficult."
It's also been difficult adjusting to the Nets system. After that first week, he dropped out of the rotation and from March 1 through the Raptor game, he shot a miserable 11 for 31, including some notorious air balls. Even in the Raptor game, he didn't score, the seventh time since March 1 he's gone scoreless.
With the season just about done, Hassell has to consider this a lost year. Twice traded, relegated to the bench, and publicly unwanted by the team he wound up with. Still, he remains hopeful. He should be entering the prime of his career, having turned 29 in early March.
"Oh, I might fit in there," he said with a smile.