Brook Lopez will emerge as a top 5 Center
That's right, I said it: the Nets' 7 foot big man will finally take the next step in his development and become a great NBA player. The reason why I am confident of this is due to a. his size, which is good for a starting NBA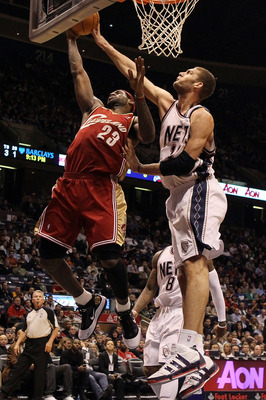 center, his skill set, which includes 20+ PPG potential (largely because he's done it) and c. the desire to prove people wrong after two consecutive seasons where he was not at 100%. Last season, Brook was hindered by a broken foot, and as such was limited to only five games. During those five games however, he averaged over 20 PPG. His rebound totals were admittedly low, but in his rookie and sophomore seasons, he averaged 8 RPG. It wasn't until rebounding powerhouse Kris Humphries joined the team that his rebounding totals dipped. While I don't expect him to dramatically improve on his 8 RPG totals, or even at all, I expect him to get back to around that area after a season where he was limited and, as such, had extra rest. I expect his PPG to drop slightly, but not too much, because he is naturally gifted offensively. He will most likely recieve less touches on offense, but he possess a FG% over 50% for his career and an above average free throw percentage for a center. His main area of concern is how he will improve defensively, which I also believe will be noticeable, due to the fact that he now has good perimeter defense in Gerald Wallace, Deron Williams and Joe Johnson. When you have better perimeter D, it helps a big man down low because players aren't getting easy trips to the hoop. Even on bad teams throughout his career, he's averaging 1.6 BPG which is also not a bad total. However,with extra rest, is there extra rust? I guess we'll have to see on that one. But, as I said, I think Lopez can emerge as an elite player that has great upside. If he does not develop into this player this year, I think we will still see substantial improvement.
Possibility ranking- C+
Deron Williams will contend for the MVP Award
I don't know how bold this prediction is, as Deron has secured his place as a top five point guard already in this league. However, I think he might have his best year yet, and this has a lot to do with the acquistion of Joe Johnson and the return of a healthy Brook Lopez. Last year, Deron had no help on the court at most times, where his second options were primarily Anthony Morrow and MarShon Brooks, who, while they're not bad players, are not equivalent to any NBA second option. So, Deron being the leader that he is, decided to take a lot more shots, which worked in favor of his PPG totals, but not his FG% totals. His other options included Shelden Williams, Kris Humphries, Shawn Williams, Damion James (who was injured most of his entire stay with the Nets) and whatever other random assortment of players they decided to throw out there. So, yeah, I can't really blame him for taking more shots and having a higher turnover per game rating. In fact, there were 25 players other than Williams on the Nets roster at some point. Even still, Deron managed to average over 8 APG, while also averaging over 20 PPG. While I don't expect him to increase his PPG totals whatsoever, I do expect him to average at least 10 APG, improve his FG% to over 47%, and get his turnovers down to about 3 per game. I don't think that is asking too much, is it? The reason why I think Deron will contend for the MVP is because the rest of the team around him, in my opinion, will all get significantly better in terms of points and FG%. Without Deron this team would be on a path to nowhere, with him, on the road to the Finals in due time.
Possibility ranking- B
Joe Johnson will contend for the Scoring Title
Joe Johnson, owner of the worst contract in the NBA, also still has game. The Nets traded for him early in the offseason for a bag of balls and Anthony Morrow. Last year as the first option for the Atlanta Hawks, "Iso-Joe" averaged 18.8 PPG, while hitting about 45% of his field goal attempts. On top of that, he had a 38% 3 point
percentage, good for 35th in the league. Not overly impressive, but certainly not awful. Johson had spend a lot of time with the Hawks as a player who held the ball and created his own shot for himself. However, on this Nets team, he will not have to do that, as he has premier playmaker Deron Williams in his backcourt with him, a player who can distribute the ball well, but still command attention while being off the ball. Johnson will still be the first option on offense, just as he was with the Hawks, but he will have a lot more chances to spot-up shoot. Another difference between the Hawks roster last year vs. the Nets' this year is the availability of other offensive options. While Joe Smith is no schlub, past him the team did not have another real scoring threat. This Nets team has several, such as Deron Williams, Gerald Wallace, Brook Lopez, and MarShon Brooks off the bench. Players such as these will allow Johnson to have more space and score more, which is why I'm making the bold prediction that he could have 25-28 PPG. If I could project these stats correctly, and insert them into last years rankings, he would have been anywhere from 3rd to 6th place. A lot depends on his ability to stay healthy, as well as his teammates. But either way, his PPG will go up.
Possibility ranking- C-
Mirza Teletovic will have a good Rookie Season
Who?
Mirza Teletovic is a 6'9, 255 pound Power Forward who hails from Bosnia/Yugoslovia. He played for Caja Laboral last season, and played very well- 21 PPG, 43% from three point land, and an average 6 RPG. Obviously, these numbers will not translate to the NBA game, especially since he will primarily be coming off the bench, but his skills translate to the NBA. He is a strong player and is not afraid to get to the paint. He can hit an NBA 3, as he has played on NBA courts before. There is a lot of film of him playing, but he possess a different type of game than most NBA defenders are used to seeing. While no one really knows what to expect from him, I'm going to be a bit optimistic and say that Teletovic will be a very good backup.
Possibility ranking- B
MarShon Brooks will Contend for the 6th Man of the Year Award
Marswag, as he is known by Nets fans, became a fan favorite last year after being traded for on draft day. The Nets initially drafted JaJauan Johnson, but traded him to the Celtics for MarShon. Since arriving, he played well offensively, being able to create his own shot and having high amounts of energy. At times, he would start at the 2 due to the lack of talent and a real starter on the roster. While he thrived in the first half of the season, he was injured and began slowing down his production. When he first came into the league, no one was sure what he would be. He proved to be very talented, and defensive players took notice. This year, he will be coming off the bench and most likely be playing against second string players. This will allow him to really develop into a strong offensive talent and score in bunches off the bench. I think that one day, Brooks will win the award, but this year I think he'll fall just short to James Harden.
Possibility ranking- B-
So there you have it, my bold predictions for the new look Nets. A lot remains to be seen, but predictions are always fun right? Let me know what you think.