With the Nets new acquisition of Murphy, this team looks to be an early exit playoff team.  However from 12 wins to a playoff berth is a huge accomplishment.  And in my statistical opinion this team can definitely make it.  Let's compare next year's squad to the Celtics that just made the Finals.  While I don't think they can necessarily do that, it bodes well for their playoff chances.  
I will mainly use PER in this assessment.  It calculates your production for each minute you play.  It use points, rebounds, assists, block and so on and so forth. Here's a detailed look.
http://en.wikipedia.org/wiki/Player_Efficiency_Rating
Here's how you look at this.
A Year For the Ages: 35.0
Runaway MVP Candidate: 30.0
Strong MVP Candidate: 27.5
Weak MVP Candidate: 25.0
Bona fide All-Star: 22.5
Borderline All-Star: 20.0
Solid 2nd option: 18.0
3rd Banana: 16.5
Pretty good player: 15.0
In the rotation: 13.0
Scrounging for minutes: 11.0
Definitely renting: 9.0
The Next Stop: DLeague 5.0
So let's compare the production of these Nets and the Celtics.
Point Guard: Devin Harris vs Rajon Rondo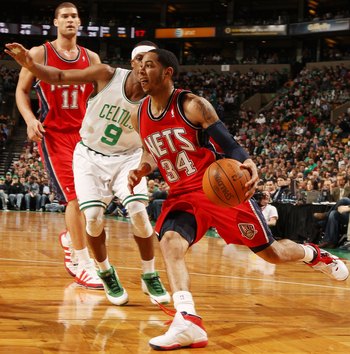 Devin Harris 2009 PER: 16.2
Rajon Rondo 2009 PER: 19.1
What there is a 3 point difference however we all know Devin had a down year last year.  Yet he was a decent 1 in 2009.  Rondo had a career year posting that and may improve.  However Devin next year will be a better player and I don't think it's unreasonable to be a 19-20 PER player as he was in the past.
Shooting Guard: Anthony Morrow/TWill vs Ray Allen
Anthony Morrow 2009 PER: 14
Terrence Williams 2009 PER: 11.5
Ray Allen 2009 PER: 15.2
Ray Allen in one of the best shooters ever.  However age caught up to him in 2009 and his production understandably declined.  The Nets are in the opposite situation with two youngsters.  Morrow is a good offensive producer but he lacks defense.  TWill plays good defense but his offense could use work.  Both should improve in their weak areas.  Morrow is now under Avery who should get his defensive act together.  TWill has shown good signs towards the end of the season and will continue to improve.  It's not a stretch to say either of these two can equal 2009 Ray Allen.
Small Forward: Travis Outlaw vs Paul Pierce
Travis Outlaw 2009 PER: 13.3
Paul Pierce 2009 PER: 18.2
Pierce was still good but age too is catching up to him.  This is the first true lopsided battle because Outlaw sucks.  Yet he got a 35 million dollar contract.  If he was in his early 20's I would like it but Outlaw is already 25.  He can turn it around but he likely won't.  Easily the worst free agent signing.  But we aren't expecting a Finals team so we should expect a lopsided battle here.  This is the only one tough.
Power Forward: Troy Murphy vs Kevin Garnett
Troy Murphy 2009 PER: 18
Kevin Garnett 2009 PER: 19.4
Garnett too suffered the disease of age however still put up a quality season.  Murphy is no slouch tough almost equaling Garnett's production.  Numbers speak for themselves here.
Center: Brook Lopez vs Kendrick Perkins/Rasheed Wallace
Brook Lopez 2009 PER: 20.1
Kendrick Perkins 2009 PER: 15
Rasheed Wallace 2009 PER: 13.1
No surprise here, Lopez spanks the Celtic's centers. But he is also very young and will definitely improve his game.  Lopez will become one of the game's best centers.  He's truly untouchable in trade talks.  He balances the production lopsides in earlier battles.
All in all you'll see the Celtics beat these Nets starter for starter except Brook.  However the difference was low.  Plus the extra production from Lopez balances this thing out.  I excluded the bench because the Celtics bench frankly sucks and the Nets aren't that far from it.  I'm not saying this is a Finals team or even a clear first round playoff team but this team definitely is a contender.  Making the playoffs is a scenario people don't want to be in but what they need to do is prove to the players out there that the Nets are far from being a joke and 12 wins is a distant memory.  
Free Agents will look at the team with promise instead of instant loss. That with Avery Johnson and the move to Brooklyn will make the Nets a team people will want to play.  Do I hear Carmelo?  As long as the cap space remians high he is a good possibility and perhaps a great one of the Nets make the postseason.  That will be their greatest weapon as they can use it to get another superstar to make their dynasty team.  But reaching the playoffs will help their chances greatly.  And looking at this team, there definitely can make it.
In fact I'm very willing to bet on it.